Skydiving Dunedin
Organising a bucks party is no easy feat. It's becoming increasingly difficult to tee-up a celebration that makes your soon-to-be-groom buddy say 'HOLY SH*T". If you want to go the whole hulk and get the reaction you've been imagining, Skydiving is your answer. The picturesque landscape of Dunedin makes it the perfect place to tick this activity off your bucket list. After the initial celebrations of being dubbed the best man, your mind probably started racing as you questioned how you could put a new spin on the old tradition.
Dial down your concern and listen up, because Wicked Bucks has you covered with our tandem skydiving packages. It's terrifying and exhilarating all at once, meaning it's guaranteed to get your adrenaline pumping. After surprising the soon-to-be-groom with this bucket-list-style activity, you'll be decked out in jumpsuits, strapped into your harness and loaded onto your private helicopter.
The journey up to the jump spot is unreal. If you can keep your nerves in check, you'll be treated to a 360 degree vista of the glistening water, lush greenery, rugged mountain ranges and a birds-eye-view of the lego-looking CBD. That's probably when you'll realise just how high up you the helicopter is sitting, but don't worry – you're only at the halfway mark!
Once reaching the final destination, you'll be attached to your instructor and edged towards the open door. Hold your breath and take that crazy leap of faith with all your best buddies by your side. The profanities, wet crotch and sweaty palms of the buck is arguably the best part.
Once you touch back down onto the ground, you can wipe the sweat from your forehead, breathe out and commence taking the piss out of your shaky buck. 
Experience Overview
As if marriage wasn't scary enough
Conquer your fears
Freefall to the ground at over 200km/h
All safety equipment included
Experienced instructors to get you back to the missus in one piece
Perfect for the adrenaline junky
Get a Quote
Call for Info
5 Reasons to go Skydiving in Dunedin
The fun doesn't have to end when you touch down on the ground. Surviving this skydiving experience without any tears is worthy of being celebrated. The hit of adrenaline, amped up vibes and sense of accomplishment is the perfect excuse to hit the town and debrief the day over some booze. 
Skydiving is one of those things that people are either dying to try or would rather die than try. Don't give your buck the option, just make him do it. He pee his pants in the helicopter but that's the price you pay for getting married. 
While skydiving sounds (and feels) pretty bloody dangerous, safety is key in every aspect of this activity. The expert and experienced instructors are there to go over all the necessary details before you head up, and then they're there with you every step of the way. 
Looking for something to add into your Best Man speech for the wedding? Strap a GoPro to the Buck's chest and you'll have a ready made tape to play to everyone on the big night. If that doesn't score some laughs, nothing will. 
Although skydiving is on many people's bucket lists, not many people make any real attempt to tick it off. There is no better way to make your skydiving debut than over the beautiful landscape of Dunedin. The region is so picturesque that you may temporarily forget just how terrified you are.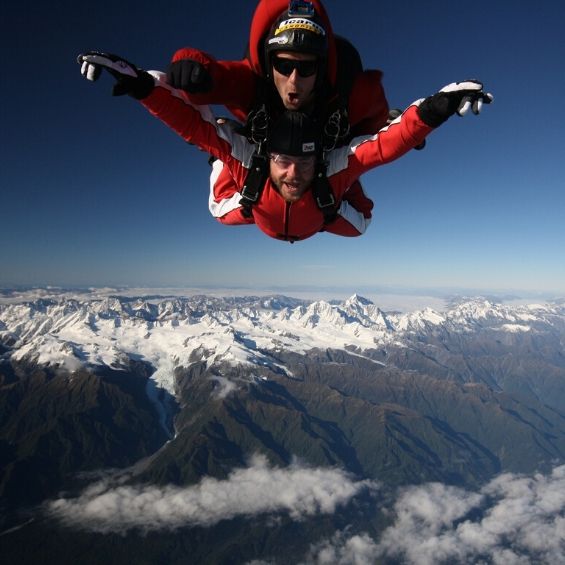 Making the most of Skydiving Dunedin
If you're looking for a reason to visit Dunedin, the real question you should be asking is: "Why shouldn't I visit Dunedin?". The south island destination has so much on offer that we like to refer to it as New Zealand's buffet city. Unlike the soggy, all-you-can-eat affairs that you're probably used to, this fun-sized city is full of surprises and never disappoints.
Dunedin is quickly gaining a reputation for being one of the quirkiest, funnest and most up-and-coming spots in the country. Amazing food, unique culture and intriguing architecture underpin in the CBD, with new venues popping up every week. A little further out of the city, you'll find wild beaches, friendly wildlife, stacks of rolling green hills, hiking trails and rugged cliff faces. This scenery is the perfect backdrop for any kind of adventure activity, ensuring Dunedin stays true to the Kiwi's reputation for adrenaline-packed attractions. Slightly cool in winter but enjoyably mild in Summer, Dunedin is a year-round destination for dudes from all walks of life.
As the city's biggest fans, the team at Wicked Bucks know all the tips and tricks to ensure you get the most out of your time here. Get in and experience the magic before the cat is let out of the bag and everyone is flocking to Dunedin.