Paintball Dunedin Bucks Party Idea
What makes you scream like you're in pain, involves plenty of balls and keeps you coming back for more? Paintball, duh! It's a game that's often dismissed as being for a teenage boy's party but let's be real, have you really grown up that much since you were in high school? Equal parts electrifying and slightly tortuous, this activity is as fun as being an unsupervised toddler in a lolly shop. 
If you've been scouring Google, searching forums and diving deep into Facebook to find an activity that will throw any resemblance of adulthood out the window, you've come to the right place. With your buddy's final days of freedom slowly dwindling, this is one of his last chances to truly let loose with the boys and be let off the hook for acting like a giant kid. The only way to give him a send off to rival his childhood cheekiness is with a paintball session.
After being kitted out with a semi auto paintball gun, stylish (in your Grandpa's opinion) camo jacket and dozens of paintballs, you'll be led to the starting point. Once the siren goes, it's just you, your buddies and the wide open terrain. With adrenaline rushing through your system, you'll need to channel everything you've learnt from your days playing Call of Duty. We're talking commando rolls, pure stealth and a-win-at all-costs mentality.
There are a number of different versions of the game, ranging from a basic shootout to missions requiring you to deactivate the opposing team's home base. The set up of this joint is so realistic that you'll feel like you're in a scene from the end of the world, which makes shooting your mates a damn lot easier.
You're pretty much guaranteed to leave with several purple and green bruises, but you know what they say – love hurts.
Experience Overview
Live out your video game fantasy
Expert instructors to teach you how to perfect the game
State-of-the-art facility with all equipment included
The ultimate test to see who comes out on top
Get a Quote
Call for Info
Reasons to choose this activity
Want to seperate the boys from the men in your gang? Paintball is the answer. Wicked Bucks will have you ducking, weaving, defending and attacking, all in an attempt to prove you have what it takes. 
Paintball may typically be associated with teenagers, kids parties and corporate bonding days, but the sport has really picked up in the last few years. This world-class paintballing facility raises the bar in terms of professionalism, quality and customer satisfaction. It's so realistic that we'll forgive you for taking it a step too far when you forget it's just a game.
This state-of-the-art facility has expert instructors to match. The staff that run this venue play at both club and national level, as well as coaching teams that are in the top 3 for Paintball in the country. With their skills, expertise and patience, you'll be shooting up before you know it. 
Okay, so paintball sounds pretty hectic. We've mentioned bruises, adrenaline and fast-paced action. Don't be scared off though! While we aim to provide a realistic and immersive experience, safety underpins every aspect of the venue. It's probably the safest ball action you'll ever experience. 
Just imagine the feeling. The adrenaline. The rush. The feeling of satisfaction when you creep up behind the buck, shoot him in the back and sneak away listening to his baby-like moans. Just don't lose focus for too long, you might be whacked in the arm and life will never be the same again.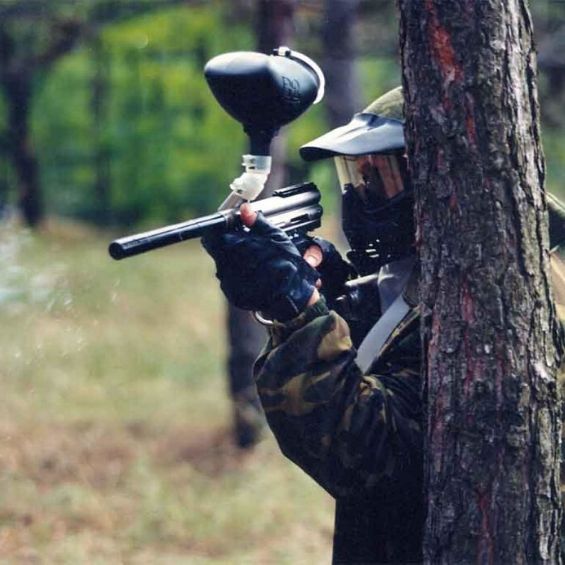 Making the most of Paintball Dunedin
Dunedin isn't exactly on the typical traveller's trail. It doesn't have the same reputation as some other New Zealand cities, like Auckland, Christchurch or Wellington. But anyone who suggests this city isn't worth visiting, has obviously never paid a visit to the self-titled Quirky Capital. Dunedin combines all the best aspects of New Zealand into a fun sized and relatively untouched hot spot.
True to the country's reputation for natural beauty, this South Island destination is an outdoor wonderland. Imagine a glistening stretch of coastline, staggering cliffs, rugged greenery and orange-yellow-swirled sunsets. This landscape is the perfect backdrop for the abundance of local wildlife, which actually includes one of the world's rarest penguin (The Yellow Eyed Penguin) and the Royal Albatross (which apparently isn't found anywhere else in the Southern Hemisphere).
It's not all beaches, hiking and bird watching though, Dunedin does know how to throw a killer party. Being a university city, there are plenty of bars and pubs that serve up epic drink specials and attract a vibrant crowd every night of the week. While the locals are known for being slightly quirky (they play naked rugby for crying out loud), they're always welcoming newcomers. Whether you're looking to fly and flop, or you want one last blow out, Dunedin is your poison of choice. The best part is that you don't even need to lift a finger. Wicked Bucks has you sorted.