Golf Day Dunedin
What's your strike rate? Are you good gently sliding it into the hole? Or do you just bang it from behind and hope for the best? However you choose to take your ball action, a Wicked Bucks Golf Day in Dunedin will satisfy all of your swinging urges. Chuck in a few carts, some laughs at the buck's expense, and a beautiful group of golf bunnies cheering you on, and you've got an epic day out with the boys.
Golf, the lads and an ice-cold beer. What more does a bloke need? Tee off in style and get ready to put your buddies to shame with a Wicked Bucks Golf Day in Dunedin. As golf originates from Scotland and Dunedin has a rich Scottish heritage, it should come as no surprise that the region hosts several world class greens.
These courses are perfect for golfers of all abilities, including everyone from sporting noobs to budding PGA champions. You can test your accuracy on the fairways, water hazards and sand traps, as well as zip around the course on your private buggy. If you seriously struggle in the sporting arena, there are professional instructors on-site to teach you that it's called a "club" not a "bat", as well as showing you which end to hold.
Choose between 9 or 18 holes, you can heat up the competition by splitting your group into teams and going head-to-head against each other. If you really want to channel your inner Tiger Woods streak, Wicked Bucks can even line up some golf girls to cheer you on, keep you company and improve the already picturesque view. 
Experience Overview
For golfers of all abilities
Private buggy hire included
Choose between 9 or 18 holes
Add some caddy girls to keep you company
Get a Quote
Call for Info
5 Reasons to do a Golf Day in Dunedin
The layout, positioning and location of the course makes an excellent golfing challenge for golfers of all abilities. The region may welcome regular competitions to the greens, but that doesn't mean you can't get out there and give it your best shot. 
It's a sport generally associated with either corporate dudes or womanizers. As Wicked Bucks doesn't encourage cheating on your Missus, maybe your lack of golfing skill is why you missed out on that promotion last month. Use this as an excuse to pick up a stick and sharpen your skills. 
Another reason? Do you seriously need another excuse to play golf? It's the best game on earth! What other sport allows you to get from A to B in a motorised buggy!?
Golf teaches patience and if you're a guy, chances are you need a lesson. After spending a day out on the Dunedin course, you will have a newfound tolerance and understanding that good things take time. This mentality might come in handy with that annoying member of the party, or even your Missus when you make it back home. 
Boys and balls are a match made in heaven! Seriously, it's a combination to rival the mix of cold beers and Friday arvos. While these may not be the type of balls that immediately come to mind, this slow paced action is just as rewarding.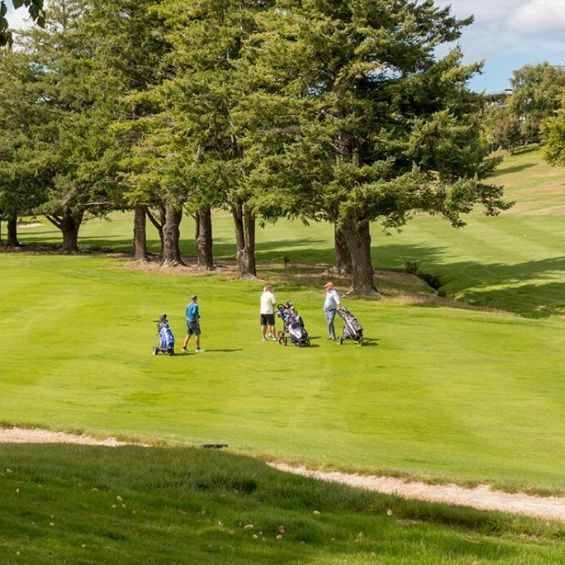 Making the most of Golf Day Dunedin
Dunedin is the type of place you dream about and then wake up the next morning secretly wishing it was all true. Unlike that utopia you've conjured in your mind, this south island destination actually exists – and you can go there, too! The vibrant waterside spot is often referred to as the country's quirkiest and hippest city. Chic cafes, elegant bars and classic pubs are dotted around the CBD, ensuring the region always boasts a happening vibe.
Many of the venues incorporate local produce in their meals, which cover almost every cuisine you can imagine. The abundance of dining options lends itself nicely to the lively nightlife scene. With the country's oldest and most preeminent University located just out of the city centre, you can find a bustling dancefloor, killer party or ridiculous drink special every night of the week. Dunedin isn't just for the city slickers though, nature nerds will fit in perfectly too.
This coastal location experiences year-round temperate conditions (by New Zealand standards anyway) and relatively less rain than some other cities, with the occasional snowfall during winter. The stretches of golden sands and glistening waters are perfect for swimming, sunbathing, surfing and even snorkelling or scuba diving. But if you're more of a land-animal, you can immerse yourself into the National Park and hike one of the many trails across the region.
What's the fun in reading about it if you don't get to experience the city for yourself? Show your Buck just how special he is but without letting his ego get out of hand, by throwing an epic celebration in Dunedin. Wicked Bucks will strap on the logistics cap, so that you just need to round up the boys and get ready to send it.