Foot Golf Queenstown Stag Party Idea
We heard your Missus when she warned you not to get handsy on the Bucks trip. That's why we're not going to let you use your hands at all. Foot golf is played the same way as golf on a golf course except that you'll be kicking a football when your feet rather than swinging a club with your hands. What do you get when you mix the two greatest sporting codes together? Obviously we're talking soccer and golf. And obviously the only answer is foot golf. 
Just like regular golf, this game is played out on the greens. Unlike Tiger's Wood's sport, foot golf uses a football and larger cup instead of the usual golf hole.  The objective is to kick the soccer ball into the target hole in as few shots as possible. This may be the only time you'll compare your count to your mates count – and the winner will be the one with the lowest number. Played with 2 people or more, a 9-holy round of Foot Golf is the ultimate date out with the lads. 
5 Reasons to do Foot Golf in Queenstown
Foot Golf is the new kid on the block. This up and coming sport is just about to take off. You might find that you're a bit of a gun at the game and you could jump on the bandwagon and ride the wave to ultimate sporting success before anyone else catches on. 
A catch up with the boys is never complete without a bit of healthy competition. Split your party into teams and go head-to-head for the ultimate prize – bragging rights, of course!
Whether you bang it hard or go for the gentle approach, this ball action is sure to get you going. 
Situated only a stone's throw from the crystal clear waters of Auckland's coast line, you might find yourself a little distracted by the mesmerising views. At least you'll have an excuse for missing that shot? 
The greatest part of this game is that it works on your terms. You can decide when you kick off, how many holes you play and what time is beer o'clock. All you need to do is say the word and Wicked Bucks will make it happen.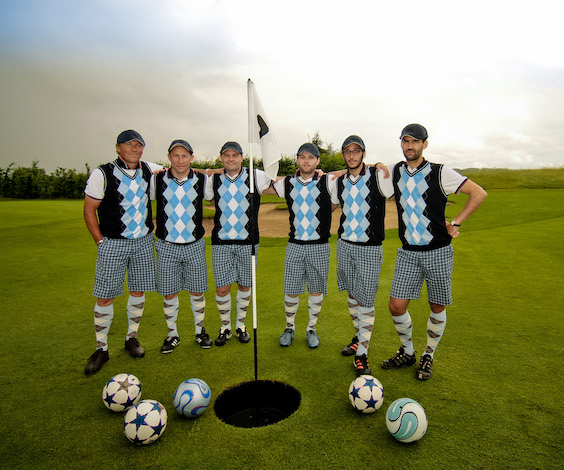 Making the most of Foot Golf in Queenstown
Queenstown is the hometown of all things fun. As the birthplace of the country's first commercial bungy operation in 1988, this South Island destination prides itself on it's impressive array of thrill-seeking activity. Queenstown is the type of place you can jump from a plane before breakfast, race around the go-karting track at lunch, ski down a mountain all afternoon and jet boat your way into the night. If you don't tire yourself out too much with all the adrenaline-packed fun, you'll also find that Queenstown hosts an incredibly serene natural landscape.
From parks and gardens, to scenic gateways and mountains, you're bound to find a view that will have you day-dreaming for months after you leave. Once the sun goes down, New Zealand's friendliest bunch come out to play. This tourist hot spot promises an epic night out, every day of the week, every week of the year. There are so many bars, stripclubs, pubs and nightlife options – you'll run out of time to try them all! Before we keep bragging about everything Queenstown has to offer, why not experience it for yourself? Wicked Bucks can make all the magic happen, without you having to lift a finger.