Ice Bar Queenstown Stag Party Ideas
Do you like to consider yourself a pretty cool guy? We've got the perfect place for you. Over 18 tonnes of crystal clear ice architecture, extreme temperatures and ice cold beers to match. It's Queenstown's Ice Bar. The OG place for all the cool kids to hang out. Ice, ice baby! In case you're not ready for winter to be over, or maybe you just want to bring the winter climate indoor with you, this Ice Bar is a solid 10.
You can expect a magical frozen city of ice sculptures, ice bars and loads of cocktails in glasses made of ice. Don't get your knicker in a knot imagining the painful fripples just yet. The team at this ice bar will dress you like an eskimo so you can explore the winter wonderland without losing your toes to frostbite. Talk about an epic place to chill out! If you are looking for more bucks activities view our Queenstown bucks party ideas.
Experience Overview
A 'cool' start to a boys night out
18 tonnes of crystal clear ice
Intricate ice sculptures
Cozy custom-made jacket
Ugg-style winter boots and gloves
Sit on it, touch it, kiss it
Cocktail served in ice glass
Get a Quote
Call for Info
5 Reasons to go to the Ice Bar in Queenstown
Queenstown may be known as a winter-bunny's wonderland in the middle of the year, but that doesn't stop the temperature gauge creepin' up over the summer. This ice bar is the perfect place to cool the hell down and is a sure-fire way to avoid sweat patches on a night out.
Drinks are served in the iconic ice glasses, with cocktails, chilled wines (no ice cube needed in this bad boy) and beers also on offer for the best chilled vibes.
This bar was hand sculpted by one of the world's top ice carvers. When you're not too busy watching your breath in the air, you can admire the impressive handiwork around you.
The bar may be below zero, but that doesn't mean you actually need to be cold. You'll be decked out with super warm jackets, gloves and boots to make sure you're eskimo-toasty-warm.
There is no cooler way to kick start your night on the town!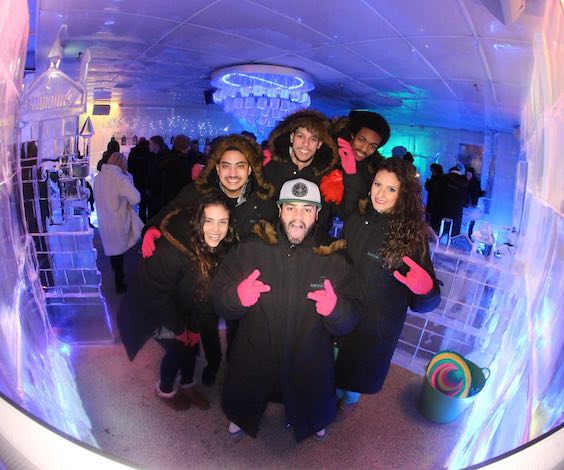 Making the most of the Ice Bar in Queenstown
Queenstown was given a royal name for a reason – this city rules. It's impossible not to be overcome by the sheer beauty of New Zealand's South Island hub. Set between crystal clear lakes and snow-covered beaks, the view is something you'll never get tired of. Queenstown also has a knack for releasing the inner adventurer in even the most nervous-nelly travellers. Jumping out a plane, careening down a slope and swinging through a canyon are all the norm for your average day in this city.
Challenge and fun seem to be apart of the lifestyle. Where Queenstown lacks in size, they make up for in quality – particularly on their foodie scene. The range of cuisines and venues is truly remarkable. You'll be able to find something to tickle your pickle, regardless of your budget or tastebuds. You can obviously tell how much we love Queenstown so we don't need to gush anymore. We'll let you experience the rest for yourself, when you book your Bucks celebrations with Wicked Bucks. If you are looking for a great deal view our bucks party specials or the Queenstown bucks party packages today.