Paintball Skirmish Queenstown Stag Party Ideas
You may not be married just yet but we are willing to bet that you've already sat through more than your fair share of rom-coms. We also know that the best part of these flicks (apart from the fitspo from Zac Efron's 17 pack) is the part where every staff group goes paintballing for corporate bonding and leaves with gnarly bruises. Don't leave this on your bucket list any longer and let Wicked Bucks take you to the best place in Queenstown to fire paint pellets without getting arrested. Wicked Bucks doesn't mess around. We've found the ultimate place to let off some colourful steam.
This paintballing venue has earnt itself the best rep in the city. It boasts pro-level playing fields, tournament standard gear and fully trained referees to ensure you're getting the most hardcore paint job possible. The fields may be open to players of all abilities but that won't stop your mates taking the piss out of you when you leave looking like a rainbow pinata. With a 100% safety record and experts on site to help you transition your Call of Duty skills into real life, you won't even need to cop a pellet to the noggin to have a good time. Whether you win or lose, this promises to be a battle for the history books and a day to remember.
Experience Overview
Fully trained referees
Standard tournament gear
Pro level playing fiels
Players of all abilities
Cop a pellet to the noggin
A battle for the history books
Get the competition going
Get a Quote
Call for Info
5 Reasons to do Paintball in Queenstown
Who says you need a woman to get your heart racing and your adrenaline pumping? When you're running through the battle-like fields and pulling your commando moves, you'll feel like you've been transported into a Hollywood film set.
If you're like us, you're probably getting a little sick of your Missus complaining about your "CoD addiction". Paintballing combines all the same tactics of your favorite video game but without the PlayStation controller (or the Missus complaining) so it's even better.
Every guy loves a little bit of competition. Split the party into teams and go head to head against each other. We take no responsibility for any friendships lost in the process but we'll happily endorse bragging rights for the winners.
This may be one of the few activities of your Bucks Celebrations where you won't have a drink in hand but with competition-standard equipment, you won't even have time to realise what you're missing out on.
There is no better way to kick start your night. The fields are only a short jaunt from the CBD and the night will still be young when you finish up – this is just the start of all the fun to come.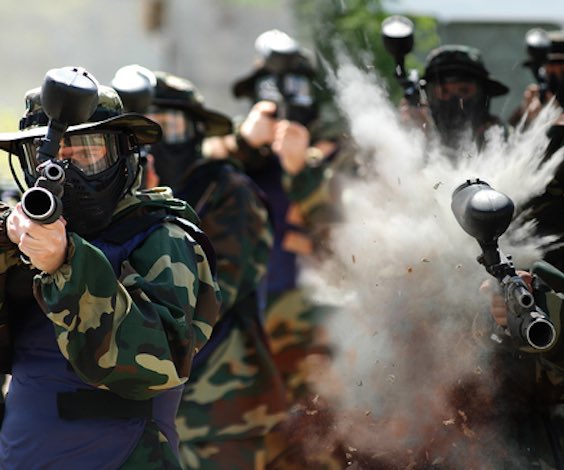 Making the most of Paintball in Queenstown
Queenstown is one of the most popular visitor destinations in New Zealand. The town hosts over 2 million visitors per year and is always a hit. Tourists always cherish the small but might resort town because of its diverse experiences, scenic wonders and one-of-a-kind vibe. In winter, Queenstown is the gateway to some of New Zealand's most prized ski resorts -The Remarkables, Coronet Peak, Cardona and Treble Cone are all just a hop, skip and a jump from the CBD. In summer, the Millennium Walk and Mactown biking track are popular options to explore the Arrowtown surroundings.
But year round, Queenstown is regularly rated as one of the friendliest cities in the world and hosts an array of cultural festivals. Whatever it is you're looking for, Wicked Bucks can find it for you in Queenstown. Stop procrastinating your visit to this wonderland and let us do all the hard work for you. We promise it'll be the ultimate Buck's celebrations. Don't forget to view our monthly Bucks Party Specials before booking. We also have a range of Queenstown bucks party packages to choose from.