Jet Boating Queenstown Stag Party Ideas
Arguably the adventure capital of the world, Queenstown has every activity your inner adrenaline junkie has ever dreamed off. There may be a list as long as a piece of string of activities to choose from, but no visit to this city is complete without a Jet Boating Experience. Today we're talkin' adrenaline. WHen it comes to all things wild in life, you can choose to be a dainty daisy with a bad habit for saying no, or you can be a YOLO-er, willing to put your body on the line in the name of fun.
Nothing will make you scream for more like being shot across the water at 95 kilometers per hour. Throw in 45 kilometres of unforgettable thrills, spins and exhilaration in one of the one most postcard perfect destinations. Wicked Bucks knows one is NEVER enough so we've got three waterways to choose from. Lake Wakatipu, Shotover and Kawarau Rivers may all be scattered around Queenstown but they all have one thing in common – a natural beauty worthy of a beauty pageant. We don't even have a height limit for Jet Boating riders so everyone from your nephew to Grandpa Joe are invited to get in on the fun.
5 Reasons to go Jet Boating in Queenstown
This joint is 100% Kiwi. Just like the fruit that they're often associated with, these operators are just the right amount of sweet and full of all the goodness you need to have a good time.
The ride might be a little bumpy but we can guarantee you'll be wet by the end. Isn't that some bang for buck?
We all know that everyone wants that #candid shot from their Instagram. Every Jet Boat ride is photographed and filmed so you have the option of taking a piece of the adrenaline action home with you – It's sure to bring in the likes.
There are no clothing restrictions so you can wear your birthday suit for all we care. Although we do suggest dressing to the weather conditions of the day because the wind-chill and high speeds are the perfect recipe for fripples.
Only Wicked Bucks can take you on an insane 60 minute high speed ride across three waterways travelling at speeds of up to 95 kilometres per hour in the fastest and meanest Jet Boats Queenstown has on offer. We're pretty proud of our endurance….can you tell?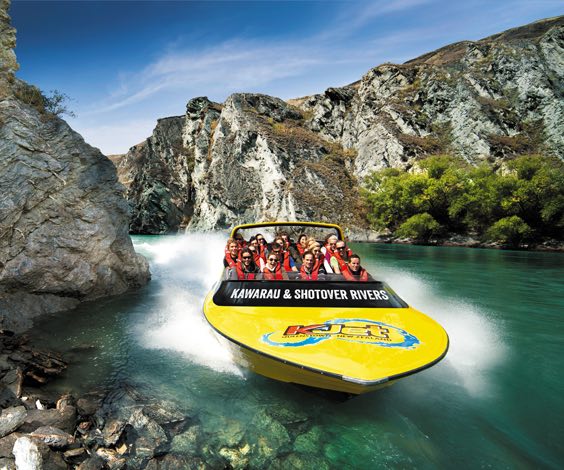 Making the most of Jet Boating in Queenstown
It's a known fact among all Kiwis and Aussies that Queenstown is the go-to destination in winter for all the snow bunnies to take on the slopes. The instagram pictures of this place are enough to have us dreaming up spending chilly days in this winter wonderland. BUT Queenstown is not all a wintery fest of slopes, races and hot choccies. New Zealand's South Island destination has also deservingly won the title of adventure capital of the world. Adrenaline Junkies can eat their hearts out with all the activities on offer. If Go Karting, Bubble Soccer, Bucks Cruise and Bungee Jumping aren't really up your alley (What's wrong with you?!), there are a plethora of more chill things to fill your day with.
Take a winery tour through some world class vineyards and sip shiraz straight from the barrel. Jump between chic bars and grungy pubs, as  you crawl your way around the seemingly endless watering holes on offer in Queenstown. For some quality bonding time, let Wicked Bucks set up the ultimate total team building challenge and separate the boys from the men in this group. Whatever it is that makes you tick, Queenstown will have it on show. Wicked Bucks are you go to for all things fun and we're here to give you the ultimate Bucks Experience. All you need to do is slide into our messages (or give one of our friendly staff a call) and let us know that you're keen – no need to play hard to get. Don't forget to view our bucks party specials or the Queenstown stag party packages.