Canyoning Queenstown Stag Party Ideas
How many times have you watched Indiana Jones and dreamt of exploring through the desert, swinging through the valleys and batting off the baddies? Wicked Bucks' Canyoning experience can offer you all that and more (There's no guarantee you'll be faced with any baddies but we're sure you can imagine). Ahh Queenstown. The home of all things natural and beautiful. While you can explore the postcard perfect setting by foot, we've got something that will take you even deeper into the heart of the city's landscape and also ignite your inner wild child.
Following a short stroll through an ancient beech forest, you'll be led to one of the country's more picturesque, high-walled canyons. This is where the slow-pace picks up. You'll then descend and explore the canyon by zip line, abseiling waterfalls, plunging into natural pools, floating down narrow passageways and cascading down chutes. It's breathtaking – the view and the adrenaline rush.
Experience Overview
Throw yourself off a cliff
Tandem options available
Hair raising thrills
Get outsie your comfort zone
Closed in shoes required
Transfers included
All equipment included
Get a Quote
Call for Info
5 Reasons to go Canyoning in Queenstown
If you're 5 or 82, this is something you can do. The Queenstown Explorer canyoning experience is suitable for all abilities and ages.
We all know that your friends back home will be saying "Proof or it didn't happen". That's why the supplied helmets have GoPro mounts so you can BYO your camera (or pick one up in the hire store) and bring home some #candid Instagram content. Don't let the inevitable influencer fame go to your head.
All you need to do is rock up with your buddies and your sense of adventure. All the technical gear will be taken care of.
This may be one of the few Wicked Bucks activities where we can encourage the cold beers but the adrenaline rush is enough to get you amped up for the big night to follow.
Do you remember those "Choose your own ending" books from primary school? This tour is basically one of those books but IRL. The guides will provide a range of routes throughout the trip so you can choose a challenge to suit your comfort.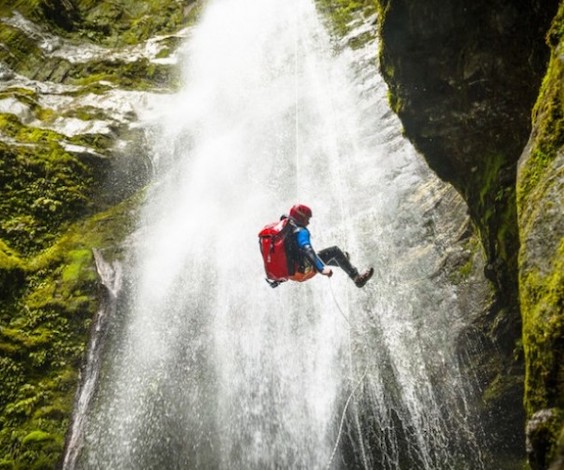 Making the most of Canyoning in Queenstown
What Queenstown lacks in size, it makes up for in looks. The city sits at the base of steep mountains and on the edge of a lake. The ski-resort looking village is about as far from the Alps as you can get but oh boy, does she give the European slopes a run for their money. When you manage to pick your chin up off the floor and drag yourself away from staring at the mountains, you'll discover why Queenstown has unofficially won the title of Adventure Capital of the World. This South Island hot spot offers everything from Quad Biking, Winery Tours, Bungee Jumping, Bucks Party Cruise, Go Karting and Bubble Soccer.
It's basically an adrenaline junkie's Nirvana. That's not to say Queenstown is only for the buddy David Attenboroughs or James Bonds of the world. Queenstown has also mastered the art of nightlife. Attracting tourists from around the world year round means that you can find a pumping waterhole every night of the week. If that's not enough to sell you on the beauty of a place, then we don't know what is. Let Wicked Bucks throw you the ultimate Bucks celebration in Queenstown…It'd be rude to say no to an offer like that. Check out our stag party specials and Queenstown stag party packages for a weekend full of fun.