Bungy Jumping Queenstown Stag Party Ideas
If Bungy Jumping isn't on your bucket list, do you even have a bucket list?! As the adventure capital of New Zealand, there is no better place to tick this off your list than in Queenstown. The best part (excluding the adrenaline hit) is just how darn beautiful the view is. As you shuffle out to the edge of the bridge, palms sweaty, heart pounding and knees shaking, you'll probably rack your brain, wondering why you signed up for Bungy Jumping. This is completely normal for any first time Jumper – in fact even accomplished jumpers still experience that mind racing feeling when they're standing on the edge.
But that feeling is what keeps people coming back. The second you make the leap of faith and feel the wind rushing past your body, you'll know you made the right decision. Wicked Bucks offers three Bungy experiences in Queenstown – Nevis, Ledge and Kawaru. Whether you prefer to jump from the highest point possible, from the top of a gondola or at the end of a 4WD bus trip, we can hook you up with an experience to suit your interests.
Experience Overview
Face your fears
Bungy certificiate
Return transfers
Enjoy amazing views
Huge adrenaline rush for the buck
Nevis, ledge or bridge bungy
Personal itinerary
Get a Quote
Call for Info
5 Reasons to go Bungy Jumping in Queenstown
Bungy Jumping might sound crazy but slightly crazy decisions always make great stories. When you're in the bar celebrating your jump afterwards, everyone and anyone will be all ears for your retelling (we can't guarantee they'll continue listening after the 5th recount though)
It's up to you to decide which jumping experience you would like. The Ledge is freestyle and you've got a short gondola ride to the top to make your mind up. The Kawarau jump is situated on the edge of a bridge and over crystal blue waters. The Nevis is slightly more adventurous and requires a 4WD bus to get along the narrow track which leads to a rocky valley.
Your Buck is about to take the ultimate leap of faith by marrying his Missus so why not show him your support by doing your very own leap of faith (without all the stress of a wedding)
This activity is bound to separate the boys from the men in your group. With 8.5 seconds in a whirlwind of adrenaline, this activity will definitely put the cement in your coffee.
The only clothing requirement is that you wear flat and secure shoes so you can bungy jump naked if you'd like. It does get a little chilly in winter though so we recommend layering up.
Further Reading: Top Sydney Strip Clubs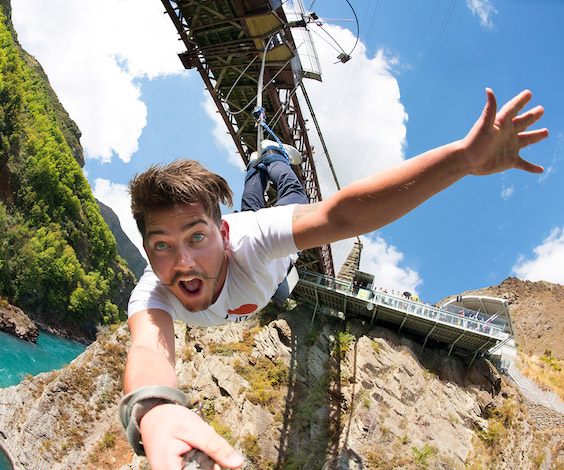 Making the most of Bungy Jumping in Queenstown
It's no wonder they called it Queenstown because New Zealand's South Island city is worthy of being royalty. The destination offers so many activities to do and sites to see that you're biggest struggle will be finding enough time to fit everything on your wishlist in. It is (in our humble opinion) the prettiest place on earth. If you're after some drool worthy #nature shots for your insta, look no further –  Every corner offers another WOW moment. Attracting so many travellers from around the globe, Queenstown also boasts a bustling nightlife scene.
Every night of the week there is an excuse to lose your inhibitions and party until the sun comes up. For the casual thrill seeker to the full-throttle adrenaline junkie, the city is home to endless opportunities to live each day to the fullest. Pick between Bungee Jumping, Paintballing, Go-Karting or many more. If you're not already packing your bags and booking your tickets, you've lost your mind. Let Wicked Bucks give you the ultimate Bucks celebrations in Queenstown. We have a number of bucks party specials and bucks party packages available be sure to check them out before making a booking.
Further Reading: Top 10 Things to do in Sydney