Quad Biking Queenstown Stag Party Ideas
Get ready to get down and dirty for the ride of your life. Wicked Bucks is here to give you the thrill of the machine and a sense of discovery as you go bush bashing through some of New Zealand's most picturesque scenes on a quad bike. This is literally your childhood dreams come to life. Forget bus tours, walking tours or even helicopter tours – we've got something that trumps them all. Wicked Bucks has an all-inclusive guided ATV and dirt bike tour.
No need to work out how to fit your bike into your carry on luggage because we supply top quality, well-maintained, late model bikes, along with all the gear to make you look like a pro even if you're Queenstown's biggest kook. With local guides to take you off the beaten track, you'll see the countryside from a unique perspective. There is 11,000 acres of natural, private playground to explore and even some free action shots thrown in – these bad boys are guaranteed to pull you in some likes on Instagram. Whether you're a biking prodigy or you've never had a taste, a Quad Biking Tour is Queenstown will leave you screaming for more.
Experience Overview
All training and safety equipment
Get covered in mud
Enjoy a day on the trails
Late model bikes included
Local tour guides
No motorbike experience required
Own personal itinerary for your group
Get a Quote
Call for Info
5 Reasons to go on a Quad Biking Tour in Queenstown
Everybody knows that 25-year-olds are the best rides. With a quarter of a century experience taking visitors on the ride of their life, this quad biking tour is New Zealand's original and best.
The track is no walk in the park. The stunning scenery is filled with hill climbs, creek crossing, jumps and berms, to keep you on the edge of your seat with excitement.
We pride ourselves on hooking you up with the good stuff. This biking tour uses a range of Suzuki Sports Quads – No farm quads available!
Every guy loves some personal attention. This tailor made tour can be designed to satisfy all your desires and offers a max guide to rider ratio of 1:6. Don't say we don't look after you.
Whether you're a newbie or a gun on the quad, the specially trained staff will have you leaving feeling like a pro.
Further Reading: Top 10 Things to Do in Sydney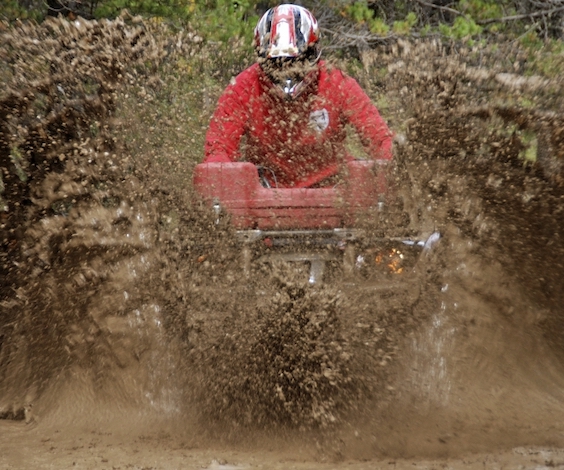 Making the most of Quad Biking in Queenstown
Queenstown may be one of the world's most photogenic destinations, but New Zealand's South Island city is more than just a pretty face. As the adventure and party capital of the country, there is something to keep everyone entertained. There are 52 bars, pub crawls every night of the week, a haunted house, too many jet boat rides to choose from and enough adrenaline-pumping activity to keep even the most adventure-seeking-junkies happy. However you choose to spend your time in Queenstown, everyone seems to leave with the same remarks – We only planned on staying the weekend but we couldn't tear ourselves away". Come and fall in love with Queenstown and you'll be guaranteed to be love story of your life (don't worry, we won't let your Missus find out). Wicked Bucks is here to turn on the magic for you. Don't forget to check out our bucks party specials and stag party packages before making a decision.
Further Reading: Top Sydney Strip Clubs