Bucks Boob Cruise Queenstown Stag Party Ideas
It's time to bust out your sailor's hat because there's a bucks boat party cruise – ahoy! Let's be honest, there is nothing like an OTT day out on the sea with your mates. Our Luxury Super Yacht will leave you feeling like the true movie star you are. Fresh from the Mediterranean Seas (well not really but it will feel like it) Wicked Bucks' Pacific Jemm Super Yacht is the only luxury boat available for charter in Queenstown. This modern, high-performance motor yacht boasts a drool-worthy Italian design and is fully equipped for all things extravagant.
On the deck you can kick back, channel your inner Leonardo DiCaprio, and swan about like the true VIP you are. With a martini in hand to make you feel totally extra, you can design a route to suit your tastes. Wherever you choose to go, the Pacific Jemm can promise you one thing – a memorable experience. View our bucks party specials for our latest promotions and also our bucks party packages.
Experience Overview
Start your bucks party in style
Enjoy beverages on deck with epic views
Gorgeous girls to party with
Clothes optional: topless and lingerie options
Ideal for large groups
Ocean Sea Breeze included
Boat Captain Included
Get a Quote
Call for Info
5 Reasons to go on a Boob Cruise in Queenstown
To say this boat is impressive is an understatement – 80 feet of luxurious design, with a formal dining room for up to 12 guests, this is as luxe as they come.
The Pacific Jem is more than just a yacht to sunbathe on. With an elegant main salon, entertainment area and bar, the options for activities are endless.
New Zealand is international renowned as a postcard-perfect destination and there is no better way to soak in the variety of landscapes than from the water. Secluded coves and towering mountain ranges, private beaches and a vibrant inner harbour means there is a view for everyone to enjoy.
If you want to step it up a notch you can combine your private boating experience with a heli experience, or a mountain biking expedition around the shore to see environment from every angle.
Cruises are charged at an hourly rate so you're in the driver's seat to pick the length of your journey.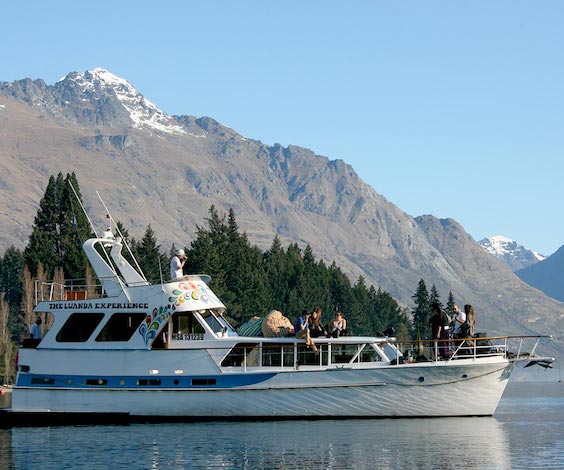 Making the most of your Party Boat Cruise in Queenstown
We love Queenstown in Spring. We love Queenstown in Autumn. And who doesn't love Queenstown in Winter? New Zealand's top south Island destination is the type of place where you can go from adrenaline pumping activities in the morning, to a winery tour at lunch and party the night away after the sun goes down.
Internationally recognised as the adventure capital of the world, Queenstown is also the home of fun. Wicked Bucks has rounded up a list of our 'must do activities" to take all the hard work out of planning your Buck's Party. All you need to do is round up the party goers, pack your bags and get ready to celebrate your Bucks' final days of freedom the only way we know how – BIG.