Bubble Soccer Queenstown Stag Party Ideas
Have you ever just felt like head butting your mates but you're afraid of what might happen if you do? Bubble Soccer is the perfect opportunity to bump, roll and play your mates without any fouls. We'll even film it for you so you've got blackmail to use for a lifetime of free drinks at the local pub. It's basically a dream come true – you can thank us later. It's not every day that your best mate gets married and it's also not every day that you can sprint at a pal, drop a shoulder into the hit, send them flying across  a field and have them stand up again laughing.
Why not combine these two unique opportunities together? Bubble Soccer follows the same objectives as regular football but without all the rules and with some added inflatable fun. Players wear a patented bubble suit that allows them to run, bounce, roll and spin, while fighting the opposing team for possession of the ball. When you've finished getting some ball action with your mates and comparing techniques, you'll be ready to kick off your night out to follow. So round up your squad and get ready to bend it like Beckham – we'll not quite but you know what we mean.
Experience Overview
Zorb balls included
Send the stag flying
New age soccer tactics required
Referees to keep it fair
Hell of a laugh
Guaranteed struggle to stay vertical
Roll your way through life
Get a Quote
Call for Info
5 Reasons to do Bubble Soccer in Queenstown
This is some ball on ball action. You'll be fending off your mates balls, while protecting your own and battling it out for a smaller ball. So much balls.
With different sizes for kids through to adults, everyone in the Buck's Party will be able to get in on the action and roll around.
Whoever said exercise isn't fun, obviously never tried Bubble Soccer. It may not include squats, crunches and lunges, but after a session of Bubble Soccer you'll have burnt off a those late night kebabs and leftover-pizza-brekkies. The best part is that you'll be having so much fun that you won't even realise.
Your best mate may be getting married but that doesn't mean you need to be an adult ALL of the time! Celebrate your Buck's final days of freedom but refusing to adult and channelling your inner kid. Whether you're in on the fast-paced action or watching the bubble antics from the sideline, this activity beats any boring dinner party.
With a game of bubble soccer you'll be scoring big before you even head out for a night on the town. Talk about a successful strike-rate!
Further Reading: Top 10 Things to Do in Sydney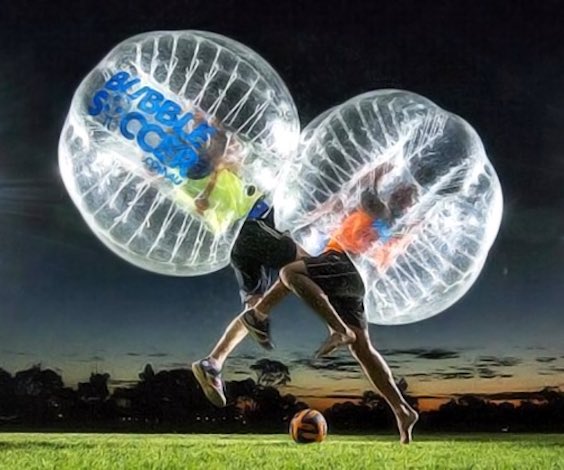 Making the most of Bubble Soccer in Queenstown
Do you remember that annoying overachiever from high school? The one that was school captain, good at every sport, played the bass guitar, maintained a straight A-report card and had a killer 6-pack which put everyone else's mid-puberty bodies to shame? Queenstown is that person AND MORE. This city ticks every box you could want and every box you never knew you wanted. With some of the world's best ski fields, adventure activities, postcard perfect scenery, drool-worthy food and a bustling nightlife – there is literally something for everyone. There is no need to get overwhelmed at the thought of all the choices though. Wicked Bucks has done the hard yards and has all the local knowledge so we can tee everything up for you not to mention our great bucks party specials. All you need to do is round up your mates and get ready to send it. This is going to be a one heck of a celebration. Also check out our stag party packages or stag accommodation in Queenstown.
Further Reading: Top Sydney Strip Clubs