Big Night Out Pub Crawl Queenstown Stag Party Idea
We like it big. We like it messy. We like it unforgettable. If you like it out way, then a Wicked Bucks Big Night Out Pub Crawl has your name ALL OVER IT. We will take over Queenstown to party like you'll never forget. The only thing putting an end to our night will be the sunrise. Queenstown's drinking scene is awash with hidden gems. In case you needed another excuse to sink beers with the boys (let's be real, you were just waiting for someone to ask), a Big Night Out Pub Crawl in Queenstown is where you need to be. 
This tour is true to its name. BIG. Join Wicked Bucks as we take you off the beaten track and show you the best watering holes this city has to offer. We hit the hottest bars, clubs, pubs and nightclubs every week so we can slide you some sweet deals. A night spent with us is no standard night out on the town though, we like to mix things up a little.  Our infamous parties range from UV paint and pirate themed to Ice Bars and everything in between.
Experience Overview
Nightclub Pub Crawl multiple venues
Stag Party Games at each venue
Complimentary drinks
Get a Quote
Call for Info
5 Reasons to do a Big Night Out Crawl in Queenstown
Unlike other tourist destinations around the globe, Queenstown doesn't offer lines of traffic or exxy uber fares. Everything you could possibly want is only a hop, skip and a jump away. Being a fun sized city means less chance of losing your mates on a night out.
Although keeping you hydrated is our main priorities, entertainment is a close second. We like to consider ourselves the King of Party Games. With more than 100 hilarious games in our repertoire, you'll have sore cheeks and an aching belly by the end of the night.
Cutting shapes on the d-floor and sinking beers is one way to work up your appetite. Wicked BUcks will chuck in some free pizza (we will judge you if you want pineapple on it though) to keep you refueled and ready to party until the sun comes up.
You could say we are kinda a big deal around here. As local party residents, we've scored discounted drinks and exclusive venue specials at all the best joints. Just because you seem like a decent bunch of blokes, we're willing to share the love around.
If it didn't make it to your instagram, did it really happen? Our professional photographer will be there to capture all the action for you and your mates. #candid #saturdays #fortheboys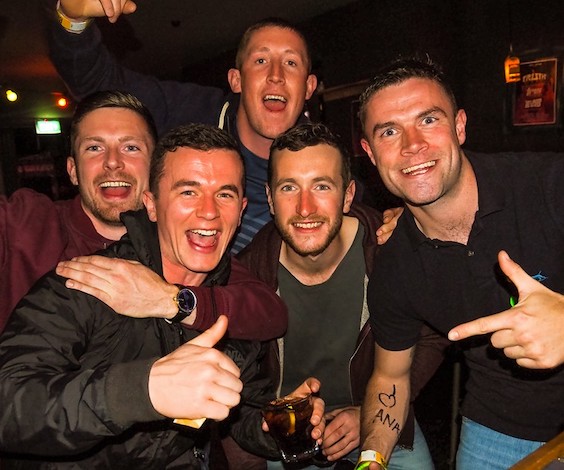 Making the most of the Big Night Out Crawl in Queenstown
Queenstown is many things to many people. It offers the most jaw-dropping natural beauty you'll ever lay your eyes on (don't let your Missus hear you say that though), and views that will leave you envious of those that get to call this place home. It is unofficially (but deservingly) the adventure capital of the world. The number of extreme sports and activities on offer is enough to keep your Grandma up at night with anxiety.
You jump from the sky, race down the mountains or fly around racing tracks with Supercar drivers. Queenstown is also a foodie's heaven and boasts a menu of world class restaurants and bars. New Zealand's South Island hot spot may be many things to many people, but it could be the Bucks destination for you. Let Wicked Bucks share the magic with you.