Golf Day Queenstown Stag Party Ideas
It's par-tee time. The beauty of golf is you can get out of it whatever you want. You can channel your inner competitive streak and push yourself to be a par above the rest. But if you just want to have a play around with your mates on a lazy afternoon – it's pretty ideal for that too. A Wicked Bucks Golf Day is the perfect activity for everyone. Whether your name is Bob, John, Dylan or Garry, a Golf Day is calling your name. 
A celebration out on the greens is enough to leave any man shouting his praises to the sky. Wicked Bucks will kit you out with all your gear so that even if you have no idea how to hold the stick (or club as the fancy pants golfers like to call them), you'll still look the part. Internationally renowned as one of the most picturesque destinations on offer, a golf day in Queenstown doesn't just boast plenty of ball action, it's also an opportunity to soak in the incredible views. So bend those knees and stick your butt out because this action may not be fast, but you'll certainly be getting a work out.
5 Reasons to do a Golf Day in Queenstown
No need to pummel a boxing bag at the gym to release all that pent-up tension from spending 24/7 with your buddies at your Buck's celebration (we know you love your mates but James' fart jokes are really starting to stink now). Smacking golf balls into the blue yonder is the perfect opportunity to let off some steam, without throwing your friendships into jeopardy.
Never picked up a stick before? After a Wicked Bucks golf lesson, you'll have some new ball skills to add to your portfolio.
Whether you bang it hard from behind or tap it in slowly, a Golf Day offers something for everyone. It's the perfect combination of mellow fun and competition.
We hear famous golfers are pretty good at picking up the ladies. When you hit the town after a day on the green, this could be your best pick up line ever.
A day spent comparing your ball skills with your mates is basically the best bonding opportunity on offer.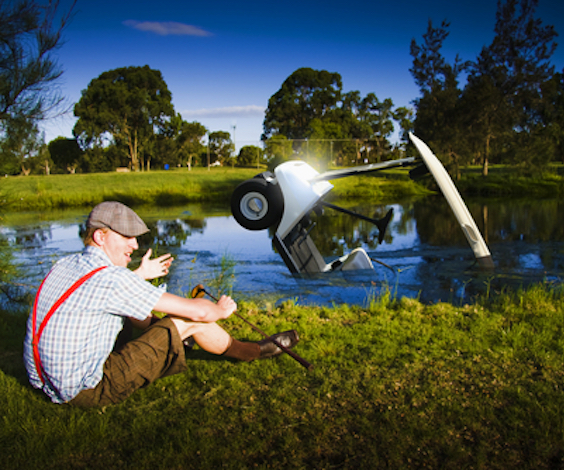 Making the most of your Golf Day in Queenstown
Queenstown is without a doubt our favourite on New Zealand's South Island. The minute you step off the plane, you'll understand why. Unlike many internationally renowned cities, a trip to Queenstown doesn't include hour-long traffic jams, road rage or kilometres of skyscraper. Plenty of the real big gems of this city feel remarkable untouched.
It's not all tree-hugging and happy snapping though, Queenstown also boasts the social injection of nightlife everyone wants at their Buck's Party. There's an option for everyone too – world class wineries, chic whisky bars, grungy pubs and pumping night clubs. Whoever said you can't have your cake and eat it too has obviously never been to Queenstown. Let Wicked Buck's take you to the place that was given a royal name for a reason – It rules.