Downhill Luge Queenstown Stag Party Ideas
Is it a bird? Is it a plane? No, it's you and your buddies zipping around 800 metres of banked corners, tunnels and dippers. Luge Queenstown will leave you feeling like the true superhero you deserve to be. If you like being in control, always pushing the limits and getting your adrenaline going, then we have the activity for you. Suitable for all ages and abilities, Luge Skyline is 800 metres of fun, fast paced freedom. Sitting in a purpose built Luge cart, you will have complete control as you take on the gravity-fuelled courses and steep gradients.
There may not be any flying banana peels, but these tracks will channel everything you learnt in your Mario Kart days. The banked corners, tunnels and dippers will have you on the edge of your seat, panting in anticipation and screaming for more. Just like all good rides, this one produces a eye-boggling view – imagine crystal blue water, skyscraping cliff faces and lines of fresh green bush. It even gives the microsoft desktop screen saver a run for its money.
Experience Overview
800m downhill luge
Fast paced freedom
Edge of the seat action
Amazing views from the track
Sexy go kart girls available
Drivers of all skill levels
Safety equipment included
Get a Quote
Call for Info
5 Reasons to do a Downhill Luge in Queenstown
We've all heard the saying once is enough. That's a quote that doesn't ring true at Luge Queenstown.This purpose built, scenic track is regularly labelled Queenstown's best adrenaline seeking activity – A big call for New Zealand's capital of adventure.
Are you sick of your Missus complaining that you can never multi-task? At Luge you'll be soaking in the postcard-perfect scenes, testing out your need for speed and inviting your mates for a little healthy competition. Wait until she hears about your new found skill for multi-tasking.
This is an activity that offers something for everyone. With different tracks available for varying abilities, even Grandpa Joe can get in on the fun.
Racing down a hill for 800 metres can only mean one thing – you've got to find your way back up again somehow. Don't get your cardio excuses out just yet. Once you've conquered the course, you can hop on the chairlift and zip straight to the top to do it all over again, without even breaking a sweat.
The only requirements to hop in a Luge cart is that you're old enough to walk. Unless you're a baby-groom, this activity should have you covered.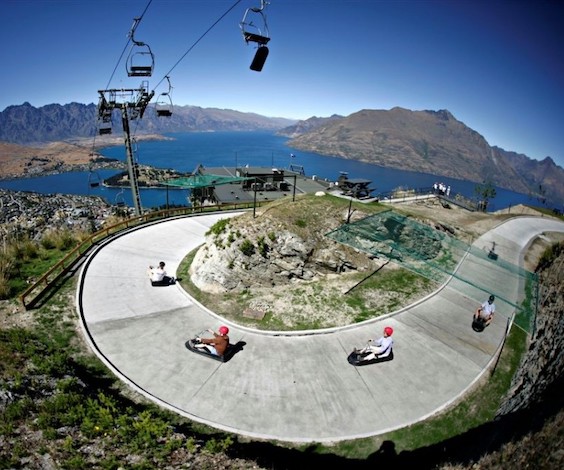 Making the most of the Downhill Luge in Queenstown
Queenstown was given a royal name for a reason – this city rules. Deservedly owning the title of New Zealand's adventure capital, Queenstown has been attracting visitors for decades. This once sleepy, waterside village is now one of the most popular tourist destinations in the world. It's a one trick pony capable of of satisfying the itch of anyone wanting to throw themselves off something. 
If you're more of a slow mover, you can always kick back and relax on a winery tour or party boat cruise. Attracting tourists year round also means Queenstown offers a bustling nightlife scene every night of the week. We could rave about this culturally rich city until the cows come home but instead of writing you a thesis, why not experience it for yourself? Let Wicked Bucks take all the hard work out of your celebrations and arrange a party worth of the history books. Round up your mates and get ready for the ultimate Bucks Party. Take a look at our Queenstown bucks party packages for further options.