Haunted House Queenstown Stag Party Ideas
Ancient ghost yarns, freaky encounters and old wives tales; Queenstown is overflowing with hidden secrets that will make the hairs on the back of your neck stand on end. If you're brave enough to cop some spine shivering experiences, Wicked Bucks' Haunted House is just for you. Everyone has probably heard of the "Bloody Mary" spirit who lingered in bathrooms on primary school sleepovers, practically begging you to chant her name into the black room.
You feeling her presence was induced by the sugar high from red snakes, but Wicked Bucks has the real deal on offer. After one step into this haunted hotel, the hairs on the back of your neck will stand up, your heart rate will quicken, and the only thing standing between you and the abyss is total terror in the darkness. What will you find inside New Zealand's most haunted house? You'll only be able to find the answer if you pluck up the courage to survive. Don't chicken out now.
Experience Overview
Face your fears
Guaranteed adrenaline rush
Make your way through a spooky house
Get a Quote
Call for Info
5 Reasons to do a Haunted House Tour in Queenstown
You might think you're brave enough to take on what's behind the doors of Queenstown's most haunted house but after one step inside, you might change your mind. If you scream "I chicken out", you'll be safely brought back to the exit early. You might be released from the horrors inside but you'll be added to the ever growing Chicken Counter. Do you want your mates hearing about that?
The F-Word is our favourite. Queenstown's haunted house is just the right balance of fun and fear.
Your Buck is just about to take the biggest leap of faith in his life – He's going to get married. Compared to the unknown future waiting ahead of him, this haunted house should be a walk in the park. Show him the support he deserves.
Every Haunted House experience is 100% customised. Your 20 minute walk through will take you on a journey with only your guests – an experience destined to leave with the strongest bromance around.
This is the perfect opportunity to separate the boys from the men. If you're still trying to shake that high-school-girl-like squeal, this one may not be for you.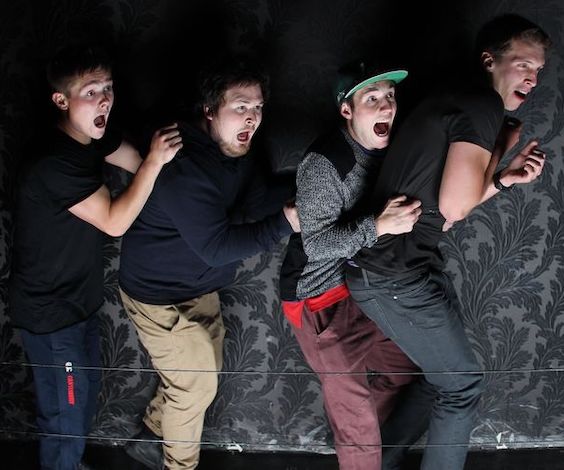 Making the most of the Haunted House Tour in Queenstown
If we've ever seen a place to live by the motto "it's quality not quantity" then Queenstown would take the cake. Where this city lacks in size, they make up for it in epic-ness. Situated at the base of steep mountains, bordering a lake and full of postcard perfect views, this city will have you pinching yourself back to reality at every corner. When you're not filling your days with David Attenborough style sightseeing, you can step it up a notch and release your inner adrenaline junkie.
Unofficially known as the Adventure Capital of the World, Queenstown offers every action-packed activity from Bungee Jumping and Riverboarding to Canyoning and Sky diving. New Zealand's South Island Hub is also a bustling nightlife hot spot. With world class wineries, impressive distilleries and an endless string of boutique breweries, the drinks are always flowing and the standard is always high. This is the sort of place you can cut shapes on the d-floor into the early hours of the morning. Curious on what more Queenstown has to offer? Let Wicked Bucks drop you right into the centre of it all – with a Bucks party to remember.