Archery Tag Queenstown Stag Party Idea
Were you the dodgeball king during your high school days? Wicked Bucks has something that will let you channel all your combat skills but with a twist. Archery Tag is a cross between dodgeball and paintball with a bow and foam tipped arrows. The beauty of this game can only be understood by playing it. It's a trip down memory lane with a nod to your (apparent) adult status. In Archery tag two teams battle it out to eliminate the oppositions team members by tagging them with an arrow, or by catching arrows fired at them.
It's basically paintball or dodgeball – but without all the bruises. With your inner combat skills coming out to play, you'll be up in the grill of your opposition, sledging your buddies like your life depends on it and watching all the action unfold in front of your eyes – not just hearing it from afar. Situated in the rolling greens of Queenstown, this open field is also equipped with a range of heavy duty props to make you really feel like you've been transported to the set of Call of Duty. Just like your favourite video game, we promise you'll be hooked within the first two minutes.
Experience Overview
Great for large groups
Bow and arrows included
Guanteed no one gets hurt to badly
Get a Quote
Call for Info
5 Reasons to do Archery Tag in Queenstown
This is an all ages, all fun activity. The only restriction is that competitors must be over the age of 8. That means even Grandpa Joe and your Great Uncle John can get in on the fun
Every guy loves some health competition. When you're out in the field, you might forget that this battle isn't actually IRL. While it's destined to let your inner competitive streak shine, it'll also be the perfect bonding opportunity for you and your mates.
Want to earn some street cred? Word on the street is that the ladies on Queenstown's nightlife scene love a man that can put up a fight. Once you tell them you've freshly returned from battle, they'll be lapping up your words for the rest of the night.
As much as we all love our buddies, sometimes spending such long periods of time in close proximity can push you to your limit. Archery Tag is the best way to let off some steam, without taking out your frustration on the closest moving creature.
Sick of your missus telling you to quit the video gaming lifestyle? This could be your saving grace. A game of Archery Tag will channel all the skills you've accumulated from your years behind the controller. A win at this is enough to keep her quiet for a few more gaming sessions. Surely?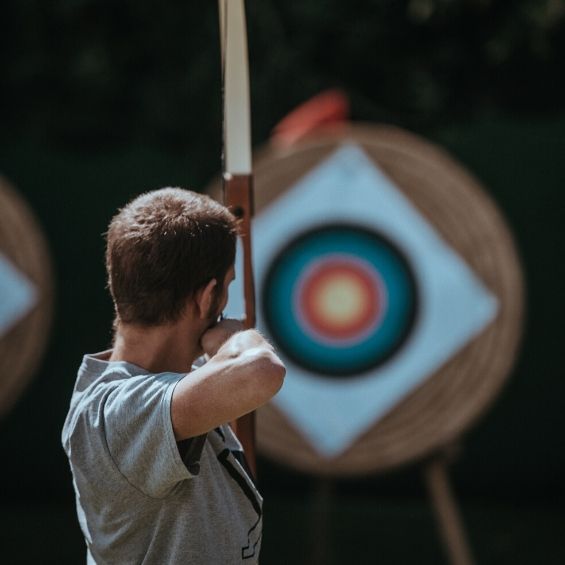 Making the most of Archery Tag in Queenstown
Queenstown is best described as a place that will leave you feeling inspired. The South Island's stunning scenery, huge range of activities and internationally renowned welcoming culture is enough to make anyone feel at home. The majestic mountains and crystal clear lakes are the perfect backdrop for a holiday full of adventure and stories for years to come. Wicked Bucks has done the hard yards and we've rounded up a list of our "Must See Hot Tips" in Queenstown. With our help, you can kick back, relax and get ready for a full calendar of fun at your Bucks Party.