Mountain Carting Queenstown Stag Party Ideas
If you have a need for speed and a love of adrenaline, New Zealand's only Mountain Carting adventure is for you. BYO a sense of adventure and a thirst for fun, we have the rest covered. The more the merrier, right? These bad boys have three wheels and that only means three times the fun. New Zealand's first gravity fuelled mountain carting adventure at Cardona is the ultimate way to get your adrenaline pumping.
With three trails to choose from, the longest of which is over 3 kilometres, you'll be hooting down the road like it's the OG Mario Kart days. No need to stress about the cardio of making your way back up the hill, we've got a gondola to bring you back up the top and let you take on the next lap even faster. The low centre of gravity and wide wheel base of these carts gives you high stability and even higher speed potential.
5 Reasons go Mountain Carting in Queenstown
All you need to bring is some sturdy footwear and some extra clothing layers for when you're riding faster than the wind. Once you rock up to Cart HQ, we'll have you fitted out with a mountain cart, helmet, goggles and overalls. It's as easy as that.
If you're a bit of a nervous nelly or you drive like your Aunt Judith, we have a professional, experienced and friendly safety team to take you through all the ABC's and 123's. After the quick safety briefing you'll be roaring for some 3-wheeled fun.
Everyone thinks the third wheel is always the most undervalued player but that's where they're wrong. The design of these carts makes for comfort, easy handling and of course, BIG SPEEDS.
We all know that when the boys get together, it only means one thing – The competition is on. This is the perfect opportunity to send the party head-to-head and distinguish the boys from the men. We can't promise anything more than bragging rights for the winners but isn't that the best part of winning anyway?
Cardrona is one of New Zealand's most picturesque locations. Up in the clouds and overlooking the rugged mountain ranges, you'll feel like you've stepped into a parallel universe.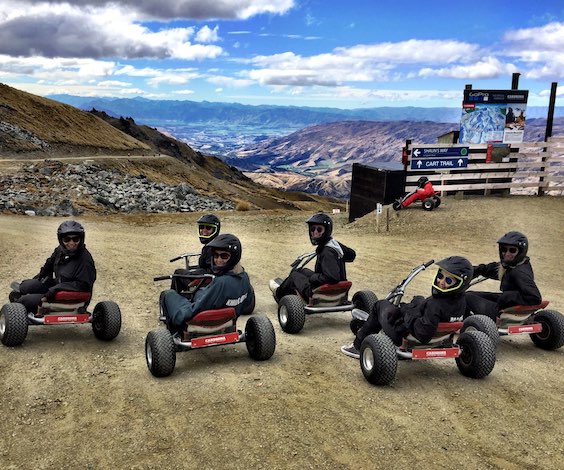 Making the most of Mountain Carting in Queenstown
After deservedly winning the title of New Zealand's Adventure Capital, Queenstown is the perfect combination of awe-inspiring natural beauty and iconic adrenaline-pumping attractions. In fact, this South Island hot spot often combines the two into one. You can Bungee Jump through picturesque valleys, mountain cart down rugged cliffs or get a birds-eye view by skydiving from a helicopter.
Whether you're dropping in for a bit of sight seeing or you're trying your hand at something a bit more adventurous, Queenstown is also the go-to place for nightlife. Attracting tourists year round means that this city offers a bustling after-hours scene every night of the week. There are enough pubs, clubs, bars, distilleries, wineries and breweries to poke a stick at. Good luck trying to make your way through all of them (but if you'd like to attempt, we do offer a world class pub crawl). Wicked Bucks is here to take the hard work out of your Bucks celebrations. All you need to do is say the word and we'll make it happen.