Skydiving Queenstown Stag Party Ideas
It takes a certain type of person to jump out of a plane at 15,000 foot. Wicked Bucks is here to help you prove to your mates that you've got what it takes. 60 seconds of free falling at 200 km per hour is the only way to steal the crown of alpha male. Has sky diving been on your bucket list since you can remember but you never actually made any real plans to do it? Us too. Until we stumbled across Queenstown's N Zone. After one look at this joint you'll be ready to harden up and take the plunge. Following a 15 minute flight through Queenstown's postcard perfect landscape, you can expect a sensory overload and you may have to fight the urge to back away from the open door.
Harnessed to a fully-certified Skydiving Master, you'll step out of that helicopter door and plunge to the ground at 200 kilometres per hour. It will be both the longest and shortest 60 seconds of your life. It's not all fast paced action though. After the freefall, you'll float to the ground in a 5-minute parachute ride – So graceful it would give Queen Elizabeth a run for her money. What are you waiting for? Throw caution to the wind and get that tick off on your bucket list.
Experience Overview
Face your fears
15,000 Ft Skydive
Freefall speeds over 200km/h
All safety equipment included
Experienced instructors
Bring closed in shoes and spare jocks
Perfect activity for the adrenaline junky
Get a Quote
Call for Info
5 Reasons to go Skydiving in Queenstown
If you're jetsetting to Queenstown, chances are you like to consider yourself a bit of an adrenaline junkie. Nothing compares to the feeling of stepping out into the open air and falling through the cloud. The post-ride high is better than anything else we've experienced.
Queenstown's landscape is so perfect it could be a microsoft desktop screensaver (It probably already is but Microsoft is so 2000). Skydiving with Wicked Bucks provides the perfect vantage point of the city. The unobstructed view will have you wishing you brought you phone along for a happy snap.
Talking of happy snaps – N Zone's team provides the most comprehensive skydive photo and video pack on offer in New Zealand. Your to take away on the day, you'll be able to relive your experience anytime. It might even earn you some street cred in the pub later that night.  
This may be one of the few Wicked Bucks activities where sobriety is key but the cold beers will be ready to go for that post-jump celebration.
As much as we hate to tell you, height does matter. That's why we've got a range of distances on offer. You can pick from 15,000 ft, 12, 000 ft or 9,000 ft freefalls.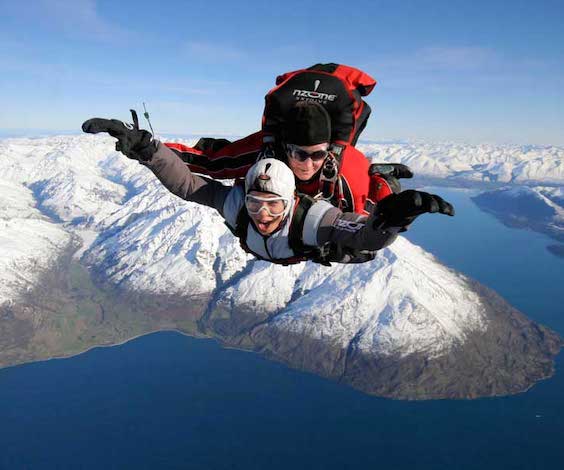 Making the most of Skydiving in Queenstown
Unless you're one of the lucky people who get to call Queenstown home, chances are you'll be visiting this resort town as a tourist. No need to get deep into your investigative mood because Wicked Bucks has taken all the hard work out of planning your trip to New Zealand's South Island hot spot. If you're looking for an adventure, then you've struck gold here. Queenstown offers everything from Skydiving, Go Karting to Bubble Soccer and River Boarding. There are more activities on offer than your nephew's school holiday program. Attracting thousands of people from across the globe also means this destination boasts a bustling nightlife.
You can mix it with the locals and hit up the impressive string of pubs, clubs and bars; or you can have a more intimate affair with a tour of the world class wineries. Before we go ahead and reveal all the surprises on offer, we've got a better deal for you. Let Wicked Bucks take you to Queenstown for the ultimate Bucks celebration and you can experience it all for yourself.