Riverboarding Queenstown Stag Party Ideas
We can do it just the way you like – Wet and wild. Riverboarding with Wicked Bucks is the ultimate way for thrill-seekers to enjoy the pristine New Zealand scenery. This face-level river experience offers an adventure for everyone. Conquer grade 2-3 rapids and becoming King of the River, riding a bodyboard. You'll be treated to standing waves, whirlpools and eddy lines and even some underwater currents if you're brave enough. These bodyboards are just like a yoga teacher – light and highly maneuverable.
Combined with the high volume flow of Kawarau River, you'll be on edge from start to finish. If you're a little more of a nervous-nelly, don't get your knickers in a knot just yet. Wicked Bucks has three different levels on offer. Whichever speed to go with, you can celebrate surviving the rapids with a stop over for a rock/cliff jump or two. All the transfers are included so all you need to do is round up the boys and get ready to laugh at your mates and their high pitched squeals.
Experience Overview
Adrenline fun
Get Wet and Wild
Enjoy pristine waters of Queenstown
Experiences for all skill levels
Experienced Tour Gudies
Surf a river wave
All equipment invluced
Get a Quote
Call for Info
5 Reasons to go Riverboarding in Queenstown
With 12 km of New Zealand's best whitewater and the world's best river guides on offer, Riverboarding is a once in a lifetime experience.
Riverboarding has been operating in Queenstown since 1989 and is one of the original activities in the city. All these years of experience only mean one thing – You're guaranteed to have the best Riverboarding experience available.
Doesn't everyone like it a little rough? This activity promises to be wet, wild and adrenaline filled. You may be gripping on with all your might but you'll finish begging for more.
Queenstown is internationally recognised as the home of adventure. It would be a crime to visit the Adrenaline Junkie capital of the world without paying a visit to this place.
All you need to bring is your swimmers, a towel and your sense of adventure. Everything else is included. (We'll even throw in a light snack and refreshment to calm the post-adrenaline-rush high)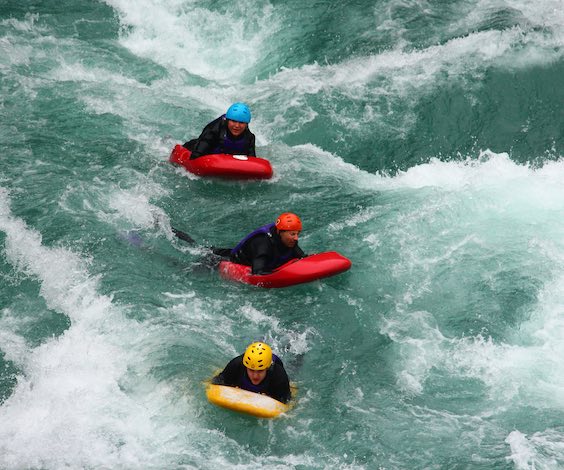 Making the most of Riverboarding in Queenstown
It's not just the snow that makes Queenstown a cool place to visit. New Zealand's south island city a southern-hemisphere mecca for all things fun. Deservingly owning the title of the World's Capital of Adventure, there are enough activities to keep even the most hard core adrenaline junkies happy. With skydiving, bungy jumping, bubble soccer and go-karting amongst the offerings, your hardest job will be finding enough time to fit everything in.
Queenstown attracts tourists year round and this has given the city a bustling nightlife scene. There are more bars, clubs, pubs and restaurants than you can poke a stick at. The best part of Queenstown is definitely the landscape. Your instagram feed will be poppin' with all the #nofilter shots you'll have to post after visiting this city. Say no more, Wicked Bucks is already signing you up and setting you up for the ultimate bucks celebrations. This will be the party of a lifetime. For a great deal check out the bucks party specials and Queenstown bucks party packages.