Pub Crawl Queenstown Stag Party Ideas
Beers, Boys and Banter. Name a better trio…we'll wait.
Queenstown has cracked the code of happiness and they've got all these ingredients within a hop, skip and a jump of each other. A Pub Crawl through this compact town will have you cheering like a high school girl.  Queenstown is a destination on the map of any global traveller. With a vibrant buzz and visitors a plenty, there is no better way to get in on the social action than with a Pub Crawl. This South Island city offers more pubs and bars than you can poke a stick at.
Unlike other major cities around the world, you won't need to worry about coordinating public transport or forking out for exxy Ubers. Everything you could need is only a short jaunt away. Once you've got the boys rounded up and ready to go, Wicked Bucks will tour you through a string of pubs sure to suit everyone's needs. With nightly happy hours, bars made completely of ice, live gigs, award winning cocktail menus and locally made craft beer, you're bound to finish the night with a smile on your dial (Some may argue this is from the amount of alcohol consumed but we beg to differ).
Experience Overview
Perfect for party people
See the best nightclubs and bars of Queenstown
Party games included
Own personal itinerary
Complimentary drinks
3 hrs to complete the tour
Nighttime Activity
Get a Quote
Call for Info
5 Reasons to do a Pub Crawl in Queenstown
New Zealand's most cosmopolitan city offers something for everyone. Whether you're after a blokey pub or a eye-grabbing cocktail menu, a Wicked Buck's Pub Crawl will tick all your boxes.
As the country's Adventure Capital, Queenstown is bound to give you a work out during the days. There is no better way to rehydrate after a big day of adrenaline-pumping activities than with a night of on-tap beers at the pub.
We've seen that finger tapping and head nodding when you're in the car and you think no one is looking. There's no need to hide your inner Dancing Queen any longer. Queenstown's pubs offer an array of live music and Dj sets every night of the week so you can cut shapes on the d-floor until the early hours of the morning.
Wicked Bucks knows that Saturday's a for the boys. A Pub Crawl is the ultimate way to toast to your Buck's and show him the support he's going to need to make it through the big day.
We may as well rename Queenstown as the city that never sleeps. With so many travellers frequenting the town, you're destined to find some new drinking buddies to join the crew any night of the week.
Further Reading: Top Sydney Strip Clubs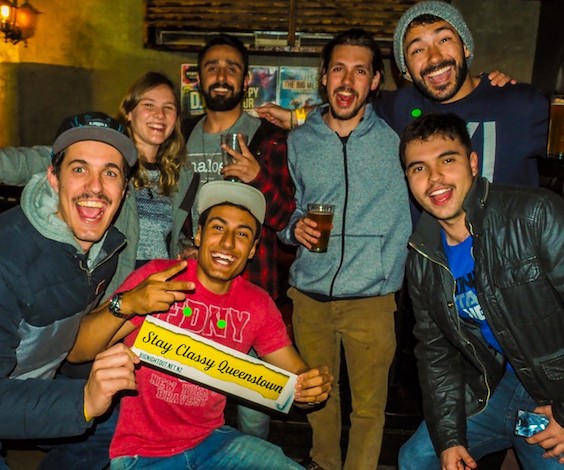 Making the most of your Pub Crawl in Queenstown
Queenstown is famously recognised as the birthplace of Bungy Jumping and reading through the  list of adrenaline-pumping activities you can throw yourself into will feel longer than a minute on the treadmill. From bubble soccer and paint ball to quad biking tours and Go-Karting, the opportunities are near endless. Despite being worthy of winning the title "Adventure Capital of the World", pigeonholing Queenstown as just a playground for thrill-seekers would be a crime. This South Island destination is also home to an impressive cosmopolitan dining and arts scene, a bustling nightlife and world-class vineyards. With all these options on offer, an evening spent in Queenstown can be just as fun-filled as the days. Check out our Queenstown stag party packages and stag party specials to take advantage of.
Further Reading: Top Things to do in Sydney