Bucks Adventure Park in the Sky
Everyone knows that birds have the best seat in the house when it comes to soaking in the natural landscape. Who says they are the only ones that can enjoy the perks of being up so high? The Adventure Park in the Sky is your opportunity to embrace Rotorua's idyllic landscape, while also dialling up the fun-factor. It's a win-win all round. 
Rotorua's Adventure Park in the Sky offers so much, it's practically the buffet version of fun activities. Operating with the slogan "there's more to enjoy", you're guaranteed to have an all round epic time while you're acting like hooligans at the venue. The most popular attraction of the site is the eight-seater gondolas. These cabins cruise along a 900-metre long Doppelmayr cableway system, transporting you up to the Skyline Rotorua Complex.
Along the way you'll be treated to uninterrupted views across Lake Rotorua, the mountain ranges, the city skyline and beyond. Once you reach the top, this is where the fun really starts. Sitting upon the top of Mt Ngongotaha, you can choose to Luge, Mountain Bike, Zoom Zipline, Sky Swing or set out on one of the nature trails.
If the heat gets a little bit much or you're looking for a breather, you can shop at the INZPIRED store, Jelly Belly Store, sip your way through a Volcanic Hills wine tasting or dine at the Market Kitchen or Stratosfare Restaurant. Finish your day with a tour through the galaxy to discover planets and spot shooting stars with the new Stargazing experience.
Suitable for dudes of all ages, interests and walks-of-life, Rotorua's Adventure Park in the Sky could just be the country's coolest hot spot. 
Experience Overview
Bring on the laughs and the good times
Plenty of different activities to do!
An activity for all ages
Can be done day or night
Get a Quote
Call for Info
Reasons to choose this activity
The Adventure Park in the Sky is drenched in fun from start to finish. From ascending to the complex by Gondola, to ziplining through majestic redwood forest, testing the limits on New Zealand's only sky swing or reaching death-defying speeds on the world's longest luge track, you're guaranteed to leave with a grin from ear to ear. 
This venue is just a few minutes from the central Rotorua region and is easily accessible by car, public transport or even on foot. It's as easy and breezy as your dream girl. 
So New Zealand may not exactly have a reputation for putting on sunshine and blue skies all year-round. Thankfully, Adventure Park in the Sky is an all-weather option for all ages. Open daily from 9am, you can dial up the fun-o-metre whether its rain, hail or shine. 
The Adventure Park in the Sky is your ticket to an unforgettable bucks celebration. It's the type of activity that will bring all your mates together, produce some belly-ache inducing laughter and make a lifetime supply of lasting memories. 
Day or night, Adventure Park in the Sky is a bustling and vibrant destination for locals and tourists. You're likely to leave this joint with a string of new pals, and a bunch of dudes ready to join you at the pub.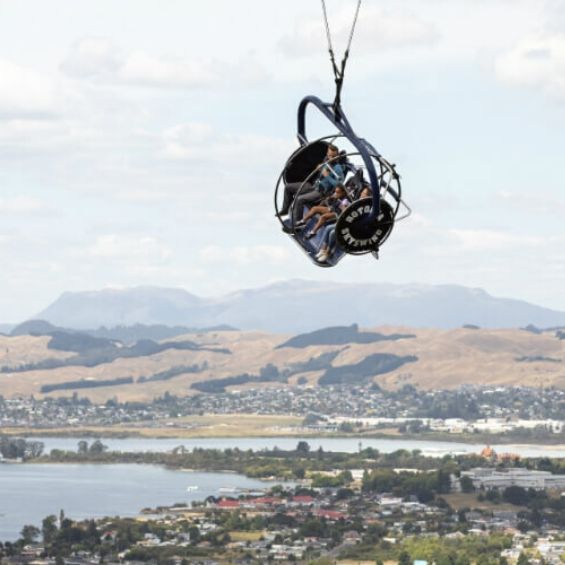 Making the most of Adventure Park in the Sky Rotorua
If Rotorua isn't sitting in the top slot of your travel bucket list, you've obviously been living under a rock for your entire life. This New Zealand north island destination is an increasingly popular destination for Kiwis and international travellers, and your soon-to-be-groom mate could be the perfect excuse to tick it off your list. The charming town is literally bubbling with volcanic activity, which leaves its mark on the architecture, range of activities and even in the air. After you get used to the smell (We promise it's not THAT bad!), you'll probably never want to leave again.
It's the type of place where you can start your day with an adrenaline-packed skydive and mid-morning hike, before indulging in a winery tour and luxurious spa, followed by a killer night out on the town. Nature-nerds will be in awe of the incredible landscape, which is characterised by rolling farmland, rugged mountains, refreshing lakes and an abundance of wildlife. Do you really need any more reasons to make a beeline for Rotorua? The team at Wicked Bucks are on standby and ready to tee-up the ultimate celebration for your mate in this beautiful destination. All you'll need to do is pack your bags, round up the boys and BYO good vibes.
We'll take care of all the logistics, hardwork and planning. With literally no responsibilities, you'll have plenty more time to sink cold beers with the lads.