Bucks Party Cruise Rotorua
So you've been assigned the duty of pulling together the most important day of your best buddy's life (Don't worry, we won't tell his fiance that it's more important than the wedding). After recovering from the initial shock that he's actually found someone willing to deal with his shit for the rest of forever, the mild panic will start to set in. What the heck are you going to do for him!? Before you get your knickers in a knot, Wicked Bucks has the perfect solution! A Bucks Cruise in Rotorua is simply so perfect, it could be the new love of his life. 
If you think organising a bucks party was a tough job, you're right. If you think you can't do this by yourself, you're also right. Thankfully, you've come to the right spot! The team at Wicked Bucks are the (self-appointed) kings of all things bucks party related, and we've got all the tips and tricks to ensure you throw the send off of a lifetime.
Wanna know our latest and greatest idea? A Bucks Cruise in Rotorua! This 5-star, private and tailor made party cruise can be made to suit any budget, party size and type of guy. As you cruise across the glistening waters of Lake Rotorua, you can embrace the surrounding beauty in all its glory. Getting up close and personal with nature, you may spot trout jumping, gulls circling, turtles swimming and if you're really lucky, a dolphin dancing. If that's not quite enough action for your liking, you can also opt for on-board clay shooting or world-class fishing.
All these bucks party ideas are bound to ensure you work up a pretty mean appetite, which is why there is the option for a full-catering service too. Sign yourself up for a generous spread of all your favorite dude foods and a free-flow of alcohol. There are two different boats to choose from, so you'll really feel like a boujee Hollywood A-lister. All that's left for you to do is grab your mates, BYO beers, queue the playlist, and get ready to conquer the open seas. 
Experience Overview
5-star, private and tailor made for your group!
Pump the tunes loud and party as hard as you want!
Your mates + a day out on the water = a perfect day
See Rotorua from the glistening waters
Full-catering service available
Get a Quote
Call for Info
Reasons to choose this activity
While the bucks cruise depart from a dock which is just over one hour away from Rotorua, the drive from the city is almost as beautiful as the final destination. The road winds past rolling farmland, lush forests and glistening waterways, so make sure you've got your camera on-hand and you're ready to snap! 
When you're adventuring on the water with your mates, it's literally just you, the lads and mother nature. Without the worry of pesky neighbours, you can pump the tunes and party it up as much as you like. 
Boys and their toys are like a match made in heaven. Whether you're 5, 23 or 74, you're never too old to appreciate a new toy. These state-of-the-art vessels are pretty much all your water-bound dreams come to life. You can marvel in the boat's beauty, enjoy all the perks and you won't be stuck with any cleaning duties at the end of it all! 
Everyone likes getting a little wet and rowdy. Your partner probably knows that you're going to play up on this trip, but this is one pastime that she'll happily let slide. Happy wife, happy life. You can thank us later!
Rotorua is one of the most beautiful destinations that we've ever laid eyes on. This Bucks Cruise will take you past locations that are only accessible by water, meaning you'll be treated to a view from one of the best seats in the house.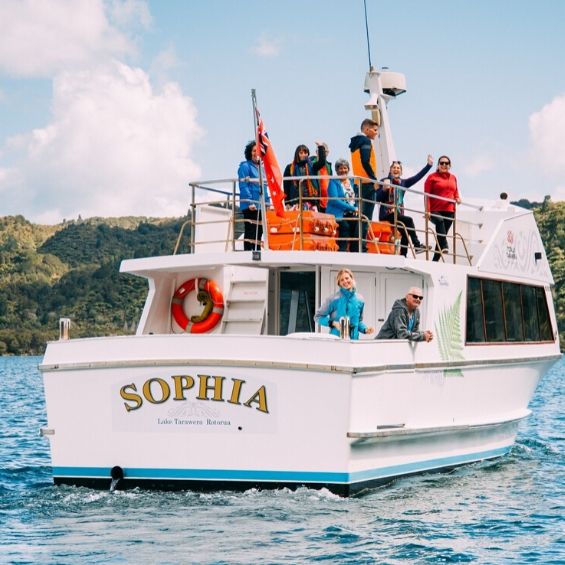 Making the most of Bucks Cruises Rotorua
Rotorua is known for many things, by many different people. Some refer to the New Zealand north island city as a cultural hub, an opportunity to learn everything there is to know about Maori traditions. Other people know the destination for it's volcanic activity, evident in the uniquely smelling air, geothermal attractions and vibrant architecture.
While these are very valid reasons to frequent Rotorua, there is so much more to this city than you may realise. For a small town, it's actually got an epic nightlife scene. The tourist mecca caters to the growing number of dance-floor enthusiasts making a bee-line for the lakeside city, by offering a string of pubs, clubs, bars and restaurants.
If strutting your stuff and getting low isn't really your thing, Rotorua also hosts a myriad of thrill-fuelled and adrenaline-packed actions sports. You can test your stamina and heart rate by skydiving, bungee jumping, go-karting or even luging. Although this is a trip to honour the man-of-the-hour, Rotorua caters to everyone. Use your buddy as an excuse to tick this city off your bucket list, and Wicked Bucks will make it all happen. Swing us a message, pack your bags and rally the boys, we've got you covered.