High Speed Jet Boating Rotorua
Rotorua is one of the greatest places to be a lazy adventurer. Without going too far out of your way, you'll have a seemingly endless supply of action-packed possibilities waiting for you. One of Wicked Bucks' top picks of the bunch is jet boating. There is just something about whizzing around on glistening waters, with the occasional stomach-dropping sensation that really satisfies our adrenaline cravings.
Are you looking to quench your wanderlust while also satisfying your inner adrenaline-junkie? Do you want an experience that will make you wait and leave you with an ear-to-ear grin of satisfaction? Jet Boating with Wicked Bucks is your chance to escape the crowds, delve into the natural beauty of Rotorua and amp up your heart rate.
After arriving at the water's edge, you'll be kitted-up with all the appropriate safety gear, given a quick briefing by the expert team and led onto the state-of-the-art vessels. From the moment the V8 engine roars to life, you'll feel the rush and power of adrenaline kicking in. These professional drivers will thrill you with speed and spins, taking you from standing still to speeds of up to 80 km/hour in a matter of seconds.
If you can unclench your fists and open your eyes for long enough, you'll be treated to views of the incredibly beautiful and serene Rotorua region too. Shooting through the glistening waters, this jet-boat journey will take you past hidden natural gems along the river that can only be discovered by boat. It's a one-of-a-kind experience that is really just the definition of thrilling.
Experience Overview
This ain't no ordinary boat ride!
Adrenaline-packed activity with the boys
See the picturesque views whilst getting up to some crazy speeds!
Set the pace for the rest of the weekend!
Get a Quote
Call for Info
Reasons to go Jet Boating in Rotorua
Prepare for lush scenery, heart-pumping spins, stomach-dropping turns and huge splashes, Jet Boating in Rotorua ain't no ordinary boat ride. With your mate's final days of freedom slowly creeping closer, this is the perfect way to show him just as special he is. 
Everyone knows that marriage is no walk in the park. While it's an incredible and rewarding experience, it does come with its challenge. Prepare your buck for the next chapter of his life by pushing him to the limits and showing him what he is truly capable of doing. Whether he's hooting with laughter or he pees his pants in fear, it's the ultimate character building activity. 
Looking for some extra content to pad out your wedding speech? Your mate's high pitched squeal or the curious wet patch on his pants will go down like a treat on the big night. If you really want to go the extra mile, bring along a GoPro or camera to catch him at his worst. 
What better way to enjoy one of New Zealand's most picturesque locations than by getting out on the water. One of the highlights of hitting the waterway in a jet boat is that you'll be able to access some spots that can't be reached from the land. This stunning slice of natural beauty is a great distraction from the fear pulsating through your body from the jet boat. 
Relaxation and rest over a few beers is great and all, but nothing compares to the feeling of an adrenaline-packed activity with the boys. This is the ultimate way to bring your group of party-goers together and set the pace for an epic bucks party celebration to follow.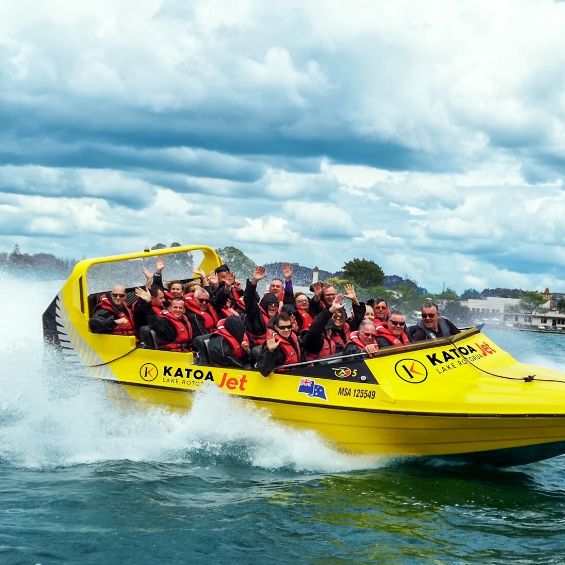 Making the most of Jet Boating in Rotorua
Rotorua is hot property – literally. The New Zealand north island city sits upon a bubbling and oozing cauldron of volcanic activity, which has become one of the main attractions of the region. You can see the legacy of this thermal activity in every pore of the city, including the architecture which is tainted by uniquely volcanic colours and shapes.
Embracing this natural wonder, Rotorua locals have capitalised on the geothermal features to offer a range of delightful activities. From boiling hot springs and mud pools to steaming geysers, there is no shortage of volcanic-inspired attractions. While the region may possess a recognisable scent, the local foodie scene makes up for the sometimes pungent air. Make sure you pack your finest elasticated pants because you'll be digging into the cafes and restaurants, which range from sophisticated fine dining to cheap and cheerful.
If you're looking for an opportunity to work off all those extra calories, the string of adventure-based and adrenaline-packed bucks activities are calling your name. Throw your body off a bridge, freefall from a helicopter, challenge your mates on the go-karting track or try your hand at clay shooting. The options are seemingly endless and these attractions never disappoint. What we're trying to say is that Rotorua is the place to be for all your bucks party needs. 
Forget the logistics, planning and organisation, Wicked Bucks has you covered. All you need to do is rock up and be ready to have a good time.