Bucks Adventure Park
As you get older, you've probably had quite a few good rides in your lifetime but chances are, they're all probably quite different. Have you ever stopped to ask yourself what they've all got in common though? Wicked Bucks has the answer for you – It's a combination of speed, adrenaline and fun. Rotorua's Adventure Park has all of that and more! 
Velocity Valley is Rotorua's home of all things speed and adrenaline. This Kiwi joint hosts all your favourite action-packed and adventure-driven activities in one convenient place. True to New Zealand's reputation for thrill-seeking fun, you're guaranteed to squeal and scream until you lose your voice at this adventure park.
The venue offers six unique adventures, catering to all ages, comfort levels and interests. Home of the world's only Shweeb Racer, as well as the Swoop, Agrojet, Freefall Xtreme, Rotorua Bungy and the Freestyle Airbag, it's the perfect place to tick everything off your bucket list in one foul swoop.
Drop in for an hour or dedicate your entire day to Velocity Valley, you'll be treated to an unforgettable experience and a sense of accomplishment that will give you all the courage you need when you enter the bar later that night. If you're looking for the perfect pre-wedding bonding experience for all your buddies, Rotorua Adventure Park is the place for you. 
Experience Overview
Get your camera at the ready to capture some great moments
All round laughs and fun
Let your inner child come out to play!
Get a Quote
Call for Info
Reasons to choose this activity:
Regardless of how old your soon-to-be-groom may think he is, his inner child-like tendencies are never too far from the surface. Give him the send off he deserves and let him run around like a 5-year-old for the day at this adventure park. Velocity Valley will be all his childhood dreams, come to life. 
There is nothing like some adrenaline-drenched fun to bring a group of guys together. Whether you're a gang of six or you've invited the entire extended family along, this is something that everyone can get involved with. 
As the best man, you're not only in charge of tee-ing up and arranging the ultimate buck's party, you've also got your wedding speech to think about! If you're still looking for some extra goodies to pad out your content or you really want to make a statement, Velocity Valley is about to become your new best friend. In between his high pitched squeals, terrified facials and the curious wet patch on his shorts, you're going to have the entire wedding in fits of laughter. Just remember to pack your GoPro and have the camera ready, you won't want to miss this shot! 
Velocity Valley isn't just a locals favourite, it's a world-class facility with one-of-a-kind offerings. Shweeb is the world's only human-powered monorail track. Not quite sure what that actually means? Neither were we until we tried it out but now we seriously cannot get enough! We won't ruin the surprise, we'll just let you experience it for yourself. 
Another unique feature of Velocity Valley is the Freestyle Airbag, which is the country's first dedicated bike airbag that allows riders to train for freestyle tricks as they descend a hill and hit one of the three ramps to get air.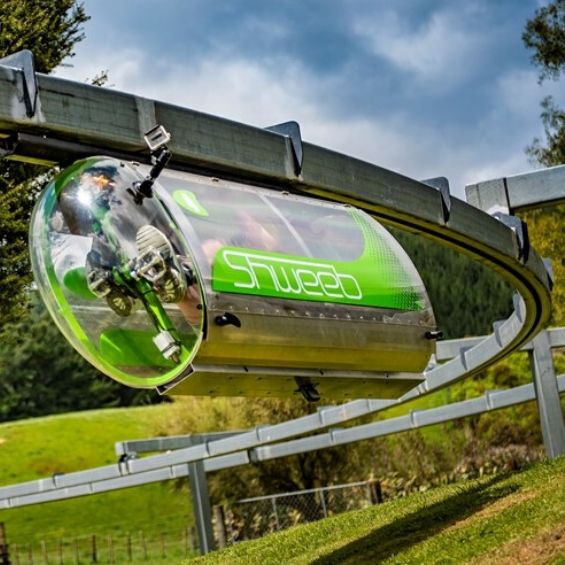 Making the most of the Adventure Park Rotorua
It's a lesser known city of New Zealand but Rotorua punches well above its weight. The strong ties to maori culture in the region are evident in everything. From the earthy colours to the uniquely shaped buildings, Rotorua is underpinned by its rich history. The local people also celebrate their culture through regular performances, shows, dances and ceremonies.
You can't mention Rotorua without bringing up its hottest feature either – the geothermal activity. A bubbling cauldron of volcanic activity is never too far away in this city, with many businesses capitalising on the unique environmental feature to offer activities like geothermal spas, hot springs and mud baths. In the warmer months of the year, the majestic lakeside town transforms into a mecca for all kinds of water sports. Think everything from jet skiing and recreational boating to paddle boarding and kayaking.
Adventure seekers can also indulge in a selection of adrenaline-inducing experiences like Zorbing and ziplining through tree top canopies. There is a reason Rotorua is so popular and attracts tourists all year round. This green, lush and welcoming destination seriously knows how to put on a good time. It might just be the Kiwi's best kept secret, but we're willing to show you the ropes. All you need to do is say the word and Wicked Buck will pull together a wild, memorable and unique send off for your soon-to-be-groom. You'll be awarded the title of Best-Best-Man, and you won't even have to lift a finger! It's as easy as that.