Bucks Cruise and Fish
Ask any guy what he likes to do in his spare time and he'll probably answer something that includes the words 'cruise' and 'fish'. We've taken your two favourite things and rolled them into one epic bucks activity in Rotorua. Cruise and Fish is quite possibly the best fly fishing and trout fishing charter we've ever been on. It's more than a popular pastime for these Kiwi locals, it's a way of life!
Maybe you've been wetting your line since you were in nappies, or maybe you've just picked up a rod in the last few months to give you an excuse to skip your chores and avoid Sunday brunch with the in-laws. We hear you. Thankfully, Rotorua is the ultimate playground for every avid fisherman, brimming with all-kinds of fish and a bunch of knowledge guides. To help you make the most of your time out on the water, Rotorua's Cruise and Fish have all your needs covered!
The locally owned and operated business offers a myriad of fly fishing adventures and trout fishing charter packages for rainbow and brown trout. While you're welcome to bring along your own gear, these friendly folk can supply all the fishing equipment you require. From the moment you step onto your personally chartered vessel, you can throw your adult responsibilities overboard and watch all your worries float away.
The skipper isn't just on call to keep everything smooth sailing, he's always full of insider tips and tricks to ensure you take home a winner. Overflowing with all-kinds of marine life, you're practically guaranteed to catch something worth writing home about. If nothing else, Cruise and Fish is just an opportunity to kick back with your mates and enjoy the refreshing scenery of Rotorua from the best seat in the house. 
Experience Overview
Channel your inner-fishermen
A one-of-a-kind experience with views and time with your boys
Crank the tunes and channel the party vibes
Cook what you catch!
Get a Quote
Call for Info
Reasons to choose this activity
The great and fishy expanse of Rotorua offers up a seemingly endless supply of spots to channel your inner-fishermen. The knowledge and friendly team at Cruise and Fish have all the insider tips and locals-only spots, which their willing to share with your party goers! 
Rotorua is an absolute gem. This city on the north island of New Zealand possesses the type of beauty that makes you spill everything to your Mum after locking eyes for the first time. Cruise and Fish will take you past some iconic scenery and idyllic locations that are only accessible from the water, meaning you'll be treated to a one-of-a-kind experience. 
One of the best things about Cruise and Fish is that it's literally just you, your mates and the wide open waters. Without the fear of neighbours interrupting or curious eyes watching your every move, you can crank the tunes, channel the party vibes and give your Bucks the celebration he deserves. 
Whether you're an avid fisherman or you don't even know which end to hold the rod, Fish and Cruise can cater to you. The Rotorua region is suited to all levels of ability and the friendly team can give you a red-hot crash course in everything you need to know. 
Did you snag yourself a winner out there? Let's whip it up and cook ourselves some dinner! It'll be the freshest and tastiest meal you've had in a long time.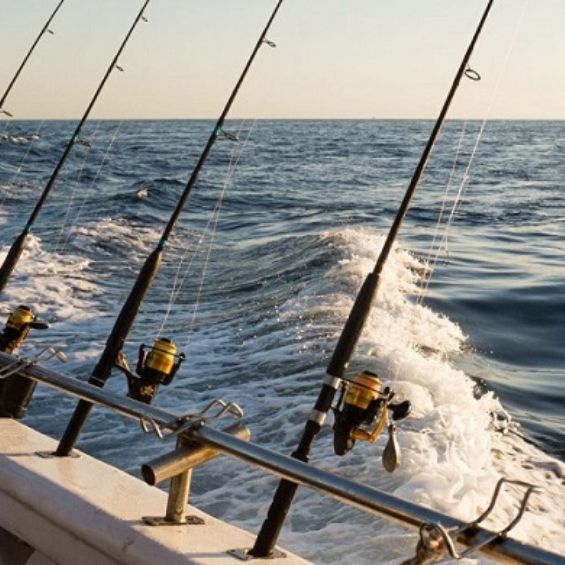 Making the most of Cruise and Fish Rotorua
New Zealand's North Island city of Rotorua attracts dudes from all walks of life. Hosting 3.3 million visitors every year, it's no surprise that this destination offers something for just about everyone. Rotorua is probably the number one place in New Zealand to experience authentic Maori culture. The city is so strongly connected to its indigenous ties that it's on the way to being officially recognised for its bilingual nature.
While traditional identity sweeps the community, the other overwhelmingly present feature is the geothermal activity. The overgrown town is practically synonymous with volcanic activity, which leaves its mark on the architecture, hot springs, bubbling spas, spraying geysers and vibrant rock formations.
Adrenaline-junkies will be keen to hear that Rotorua clings to the Kiwi's reputation for action-packed sports, and offers a seemingly endless array of thrill-filled experiences. Most famous for being the home of the Zorb, you can also get your heart pumping by skydiving, jet boating, go-karting or even bungee jumping. When you're all adventured out, you can retire to the CBD for a drool-worthy meal and more-ish drinks. Overindulge and treat-yourself to your heart's content before hitting the d-floor and shaking what your Mumma gave you.
Rotorua is just like chocolate cake; it's everyone's favourite. Give your buck some Rotorua lovin' for his final days of freedom and throw him the send-off of the century. Wicked Bucks is only standby and ready to make it happen.