Bucks Private Boat Cruise
There is nothing more we love than a day out on the water with our mates, with a cocktail in one hand and killer tunes in the background. Rotorua gets our vibe and the lakeside town has just the remedy to our very specific craving. A private boat cruise on Lake Rotorua is everything you've ever wanted, and everything you never knew you needed. It may be slightly boujee but we're totally not mad about that. 
Drop everything, lads. We mean everything. Rotorua is answering all your calls and delivering on every one of your wildest dreams. It's time to bust out your sailor's hat and don your best boat shoes (maybe leave the pirate accent behind though) because there's a boat party, and you're invited! Rotorua's private boat cruise is your chance to kick back, channel your Hollywood celeb vibes and swan about the vessel like the ultimate A-Lister that you are.
Your trip across Lake Rotorua will feel like you're conquering the wild seas, without having to venture too far away from the land. Onboard, you'll be treated to a full catering service, a relaxing view across the surrounding area, plenty of booze and a string of activities. You can try your hand at trout fishing or sailing the vessel, and you can also stop off for a quick bushwalk, photography opportunities or even to soak in the outdoor thermal hot spas.
As for the other entertainment, Wicked Bucks can tee up the very best in local talent, and of course, these ladies will be keen to show you how to have a good time. The skipper of the boat is literally brimming with insider knowledge, so you'll be visiting all the locals' only hot spots and taken past places only accessible from the water. It's luxurious, it's relaxing, and it's exactly what your buck deserves. 
Experience Overview
Luxury boat party cruise with the lads
Set sail and leave behind all your responsibilities
Beers on deck with the lads
Catering and beverage packages available
Kick off a big night
Best way to see Rotorua
Get a Quote
Call for Info
Reasons to choose this activity
Is there seriously anything better than grazing on a full-spread of food, watching mesmerisingly beautiful girls put on a show, while sipping on an ice-cold beer? We don't think so either. 
Every guy has dreamt of living the VIP lifestyle. While we may not be able to score you a role in the latest Hollywood blockbuster or hook you up with a banging celebrity girlfriend, we can give you this. It's not quite a voyage through Monaco or St Tropez but it's pretty bloody good. 
To say the scenery of Rotorua is impressive is an understatement.  From your private boat cruise, you'll have one of the best seats in this house to soak in this incredible display of natural beauty. It's so picturesque that you'll probably feel like you're staring at a postcard. 
There is a reason they coined the term "drink like a sailor". Stepping on-board this boat is the only excuse you need to start cracking open the bevvies and treating yourself to a glass of wine or cold beer. Feel free to BYO all your favourites or go all out with a full-catering option. 
As a privately-charter cruise, you're steering this boat. Okay, you won't technically be behind the wheel and controlling the vessel nut you do get to call the shots. Your charter can be tailored to suit groups of any size, interest or demographic. All you need to do is say the word and we'll make it happen.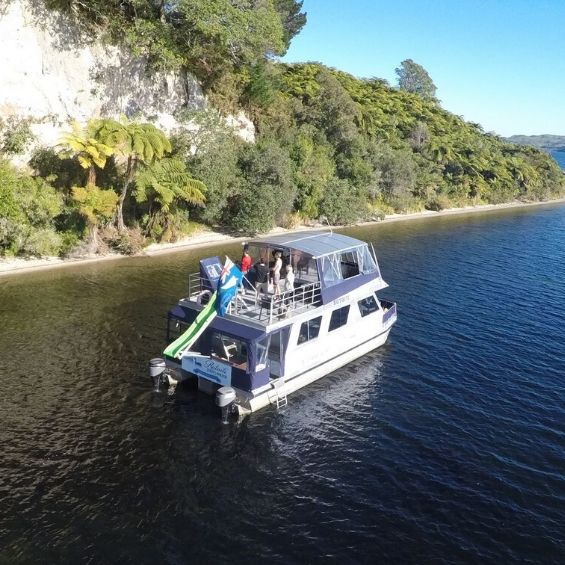 Making the most of Private Boat Cruise Rotorua
Rotorua is literally the hottest property in all of New Zealand! Sitting upon volcanic activity, the north island city is a bubbling cauldron of geothermal activity. In between hot springs, luxurious spas, spraying geysers, expansive craters and vibrant architecture, it's hard not to be overwhelmed! Beyond the heat of volcanic activity, the landscape is simply stunning. Imagine lush green hills, rugged cliff faces, glistening lakes, gushing rivers and curious wildlife.
It's the type of place that is so diverse; you'll feel like you've been transported to the set of a National Geographic doco. This environment is the ultimate playground for every thrill-seeker, who can get their adrenaline fix by skydiving, bungee jumping, white water rafting, luging or zorbing.
All that action is likely to peak your appetite, which is probably why Rotorua has so many foodie options. From fine dining to cheap and cheerful, you can satisfy just about any craving with this sumptuous array of world-class fare. The best way to wash it all down is with one of the locally produced wine or craft beers. These drinks pair perfectly with a boogie on the dancefloor and a late night of cheeky antics. It's a time to celebrate your best buddy getting married and Rotorua is precisely what he is missing in his life. Throw him a send-off bucks party that will earn you the title of Best-Best-Man and will produce a lifetime supply of memories. Wicked Bucks is ready to make it happen.