Adrenaline Off Road Adventures
Getting rough, wild and off-the-beaten track is the ultimate way to spice up any bucks party. While your mind might race to the flashing lights of a casino, the cheekiness of a gentlemen's club and the late-night antics of a bustling nightclub, there is another way to satisfy your buck. Rotorua's Off Road Adventure Park is a sustainable and premium action-packed experience for the dare-devils of the group. It's pretty rowdy, brimming with fun and won't get you in trouble with your Missus either.
Off Road is exactly what the name would suggest, a wild and adventurous experience that isn't for the faint hearted. This bucks outdoor adventure park is a one-of-a-kind venue in New Zealand, promising to deliver fun memories and leave a lasting impression. The venue is located on an idyllic NZ native bush-clad property on the Mamaku Plateau, which is just a 20-minute drive from the Rotorua CBD. The winding drive will take you past rolling farmlands, glistening bodies of water and lush greenery, ensuring the journey is almost as enjoyable as the final destination. Almost, but not quite.
From the moment you arrive at the Off Road Adventure Park, you'll be awe-inspired by the scenery. This rugged and volcanic stained landscape isn't just a great background for your Instagram shot, it's the perfect backdrop for the range of action-packed activities on offer. Established in the mid-1990s, Off Road NZ prides itself on delivering premium 4WD Bush Safaris and Monster 4×4 thrill rides.
These guided tours will take you through thick native NZ forest, on an expedition that is full of unknowns. Buckle in and share the driving because your heart will be racing with anticipation for the entire trip. As you traverse steep climbs, rapid descents, twisting bends and deep holes, you'll need to put all those hours of playing Grand Theft Auto to the test. The centre also recently expanded to host 390cc 4-stroke karts on the country's newest and longest KartSport circuit.
Suit up, pull on a helmet and experience the sensation of ground rush as you reach triple digit speeds in a matter of seconds. Whether your Buck is ready to face the heat or not, Off Road Adventure is the place to be. 
Experience Overview
Buckle in!
An action-packed experience!
Drive past volcanic stained landscapes
Rapid descents, twisting bends and deep holes
Get a Quote
Call for Info
Reasons to do an offroad 4WD adventure
The demand for intense concentration and skill is an epic way to get the adrenaline-flowing and wake your group of party-goers up. While you all rival to be the fastest or best driver, you can count on Off Road Adventure to set an epic atmosphere. 
There aren't many times that Wicked Bucks will turn down a beer. While Off Road Adventure is an activity that requires your sobriety, the celebratory beers afterwards will be worth the weight. Beer always tastes better when you have adrenaline flowing through your body. It's a proven fact (in our books, anyway!)
This is an activity that pretty much everyone can get involved with. The minimum age for go-karting is 14 and any youngsters can take a passenger seat in the 4WD Bush Safari and Monster 4×4 Thrill Ride too. There is no excuse to skip out on this one, unless you're too chicken!
Safety is paramount in every attraction  at Off Road. While you might feel like you're on the brink of death, these vehicles, equipment and associated activities are approved by the relevant authorities, and all staff members under vigorous training. You can rest assured that you're in good hands! 
Operating with the mantra "Enjoy it, don't destroy it", Off Road directs every effort towards ensuring their business doesn't impact on the surrounding environment. This is a guilt-free opportunity to soak in the natural beauty, while also getting a little crazy.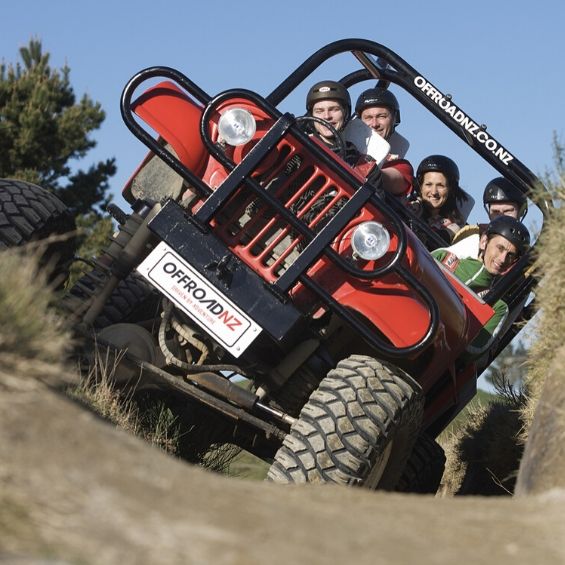 Making the most of Off Road Adventure Rotorua
Rotorua is known for its incredible display of volcanic activity. Bubbling mud pools, shooting geysers, natural hot springs and lavish spas are interlaced throughout this city on New Zealand's north island. After marvelling at the beautiful landscape and taking advantage of the thermal-inspired attractions, you have endless opportunities to channel your inner adrenaline-junkie and try your hand at an action-based sport.
Do you fancy skydiving over rugged mountain ranges? Jet boating through glistening waters? Hiking up mountain trails? You can do all that and more when you're in Rotorua. After a jam-packed day of adventure, Rotorua locals like to wind down with a sumptuous meal, world-class drop of wine and a little boogie on the dancefloor. It's a tried and tested combination, that never disappoints.
So what are you waiting for? Round up the boys and get ready to celebrate your mate's final days of freedom with a Wicked Bucks party in Rotorua.