Bucks Zorbing Rotorua
It's a totally weird and wild activity that involves balls, adrenaline and bucket loads of laughter. Downhill Zorbing is a novel ride down a purpose-built track inside a giant ball. It might sound like your weird dream from last Thursday night but this strange new pastime is actually the best thing since you graduated uni without ever attending a lecture. The bucks activity was actually invented in Rotorua in 1995, so there is literally no better place to test it out.
Most people have heard of Zorbing – the recreational sport of running around inside an orb, generally made of transparent plastic. But fewer people are aware of the new and improved variation of this sport. Downhill Zorbing is every bit as crazy and wild as the original version, with a fast-paced and adrenaline-packed twist.
Nestled inside the safety of your plastic ball, you'll need to hold on tight as you fly down the epic drops, swing around thrilling bends and sweeping corners. Discover four different ball rolling tracks – the world's longest zig-zag Sidewinder Track, the smooth 'n' fast double Straight Track, MEGA Track – the longest, fastest and steepest track in the world, as well as the newest edition track: Big Air, the latest thrill ride. Whichever track you opt for, your stomach will be chasing you to catch up from the moment you take off.
If you really want to step it up a notch, you can also take the superman dive down Mt Ngongotaha while immersed in a track of warm water. The experience of rolling down a hill inside a giant inflatable ball is probably not something you do everyday so it's most definitely worthy of your buddy's send off. 
Experience Overview
Tumble and knock over your fellow mates
Out-of-control fun, with plenty of laughs
A crazy and out of the box Bucks or Stag activity
Get a Quote
Call for Info
Reasons to choose this activity
The combination of guys and balls is practically a match made in heaven. Whether you're 12 or 72, nothing beats some quality ball action, with the perfect level of pressure and pace. Downhill Zorbing is probably your Buck's dream come true, even if he doesn't realise it yet. 
Every gang has one annoying tag-along. You know, the guy at the back of the crowd that drops the shit jokes, always spoils the fun and doesn't know where the line is? This is your chance to watch him tumble and struggle his way down the hill. You can pay him out to your heart's content and give him a taste of his own medicine, and no one will even look twice!  
The experience of rolling down a hill inside a giant inflatable ball has been an iconic adventure since the sport was invented and developed at this very location in the late-1990s! Try your hand at this ludicrous pastime in its birthplace. 
If you're anything like us, you're probably always looking for an excuse to skip the gym or for why you don't need to start your diet until tomorrow. Downhill Zorbing will force you into so many fits of uncontrollable laughter that you'll have a 6-pack and won't ever need to consider the gym again. You can thank us later. 
While it might look like a totally out-of-control and dangerous activity, Wicked Bucks takes every precaution to maintain your safety. The Zorb balls are all regularly serviced to ensure that they comply with the industry standards, and the instructors have ample safety measures in place. The ball is always rolling for customer care and safety.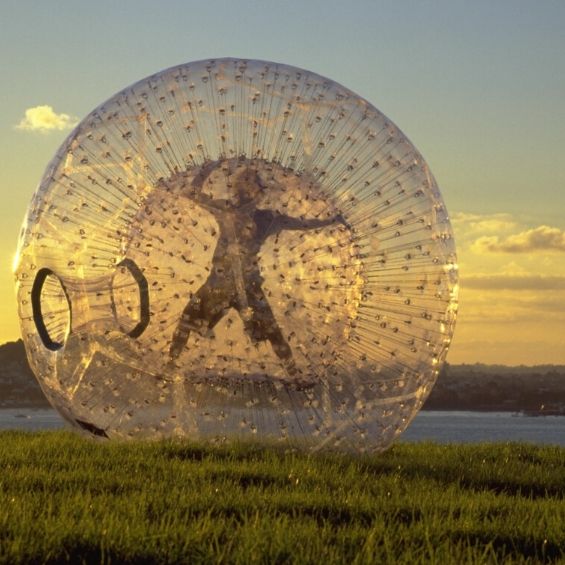 Making the most of Downhill Zorbing Rotorua
Year on year, Kiwis and international travellers flock to Rotorua – the country's 'Sulphur City'. Literally sitting upon geothermal activity, the city is a bubbling pit of volcanic action, crater lakes, erupting geysers, hot mud pools and fizzling bodies of steam. While the city is frequently visited during the cooler months of the year, summertime is when Rotorua is at its peak.
With temperatures rising, you can embrace the local abundance of adventure activities, explore the region through its hiking and biking tracks, indulge in a relaxing spa treatment or educate yourself on Maori culture. While there aren't as many nightlife options as some of the country's bigger cities, you'll find that Rotorua puts on an impressive array of live gigs, bustling venues and packed-out bars for its size. As the wedding gets closer, the time left to organise an epic bucks party is quickly dwindling.
Cancel the stress and leave the tough work to us. We'll tee-up a celebration worthy of the history book, all for the man of the hour. Round up the lads and get ready to embrace Rotorua in all its glory.