Barefoot Bowls Taupo Stag Party Idea
Kick off your shoes and get ready for some fun. Taupo Barefoot Bowls is no longer just for the senior citizens of the world. We've worked out why they're spending all their time at the local bowling club – because it's just so damn entertaining. Wicked Bucks brings you the best barefoot bowls on offer. Once reserved for the local pensioners and considered just as exciting as watching grass grow – Lawn Bowls is finally making a name for itself. This "boring" game might just be the most-underrated yet entertaining activities on offer.
Comes with a BBQ and free laughter. Throw in some bowls bunnies for an extra view. Not only can you find out which of your mates has the hairiest toes, but you'll also cop some serious ball action out in the sun. When you're not discussing techniques with your buddies (it's all in the wrist, trust us), you'll be able to soak in the idyllic views on offer in Taupo. With a free flow of beer and plenty of dude food to share, there is no better way to celebrate your win (or loss) than with a Wicked Bucks Barefoot Bowling stag activity. 
Experience Overview
BBQ & drinks on the green
Perfect chance to play with some balls
Great for large bucks groups
Bowls bunnies available
Get a Quote
Call for Info
5 Reasons to go Barefoot Bowling in Taupo
This trendy sports-cum drinking activity is similar to beer pong, but you get to wear your activewear. What's not to love about that?!
How many activities combine a healthy dose of competition with a decent serving of cold beers? If only all sports were like this!
While you're playing barefoot bowls you can strip off, play with balls and get ready to pick it up a notch in the evening to follow. 
Taupo is becoming internationally recognised for its picturesque scenery. After a sunny afternoon playing Barefoot Bowls and soaking in the ambience, you'll understand why thousands of tourists from around the world are flocking to this lakeside town every year. 
If you're still looking for a sport to get you qualified for the next Olympics, Lawn Bowls could be your solution. You never know – there might even be some scouts watching (probably not though).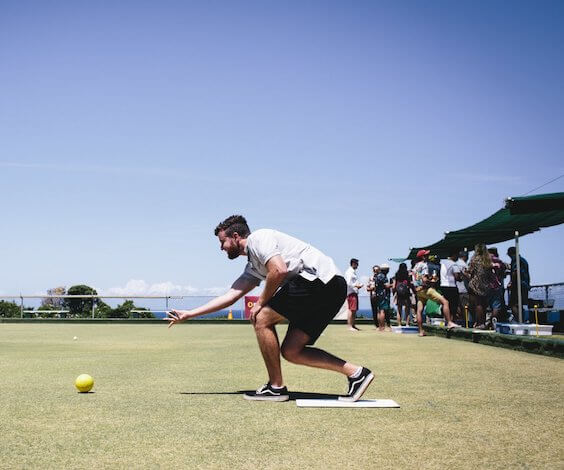 Making the most of Barefoot Bowls in Taupo
Why do we love Taupo so much? It's hard to put our feelings of affection into words that do this lakeside town justice. But if we had to try… The mesmerising natural landscapes are unlike anything you'll find anywhere else in the world. The crystal clear waters of Lake Taupo and unique geothermal hotspots are pinned against the snow jagged mountain ranges and rolling green hills. There is an abundance of adventure and adrenaline stag activities to keep everyone busy, as well as more peaceful experiences too.
Taupo locals are known for their friendly nature and are always more than willing to share the town's rich cultural history with anyone keen to listen. This North Island destination also punches well above its weight in the wining and dining sector. There are a range of local breweries, wineries, pubs, restaurants, bars and plenty more to choose from every night of the week. Whatever it is that makes your heart sing, Taupo is sure to have it on offer. Wicked Bucks can whisk you away and take all the hard work out of planning a Stag Party in Taupo. Say the word and we can make it happen.