Deep Sea Fishing Trip Taupo Stag Party Idea
Fishing – You either love it or you're lying. Don't think this past time is just for your old man. After a deep sea fishing experience with Wicked Bucks, you might just realise you don't hate cruising around one of New Zealand's most idyllic landscapes with a few cold beers in hand. Sit on board your private charter and cast your line into the iconic Lake Taupo. While above the water may be one of New Zealand's most photographed natural destinations, below the water is just as worthy of recognition.
The crystal clear water of Lake Taupo is home to a host of wild trout all year round. You're almost guaranteed a bite every time at this hotspot. The calm waters of the lake also make for a peaceful journey and from the comfort of your fishing boat, all you need to do is sit back and cast away.  There's no need to pack all your gear, because we can hook you up with top quality fishing tackle – and an impressive serving of food and beverages to match. 
Experience Overview
Fishing gear included
Trout is the typical catch
BYO drinks
Food available
Girls available on request
Get a Quote
Call for Info
5 Reasons to go Deep Sea Fishing in Taupo
If you even try and tell us you're not a fan of fishing, you've obviously never been deep sea fishing with Wicked Bucks. From the minute you step on our boat, we won't say it, but we told you so. 
Lake taupo is known for fishing all your round. With no closed season on the lake, we can hook you up (almost) anytime. 
Trout cannot be bought or sold in Taupo – the only way to try it is to go and catch it. 
Guided by our professional boat drivers and fishing instructors, we can take you to the locals-only hot spots, and give you the best experience on offer. 
Every angler must have a valid fishing licence in Taupo. With a Half Day Fishing experience, we can do all the paperwork and have everything ready to go when you hit the waters.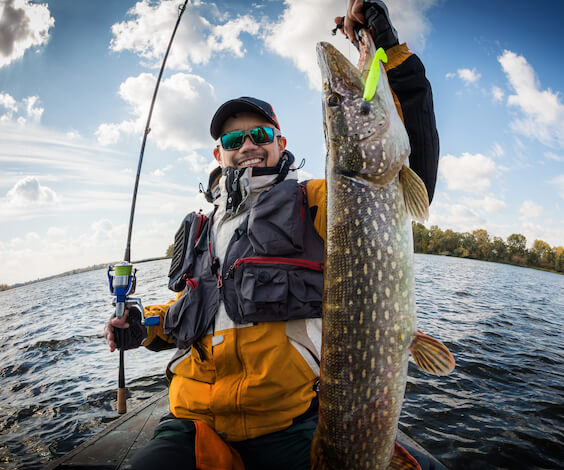 Making the most of Deep Sea Fishing in Taupo
While New Zealand has exploded in recent years thanks to it's gorgeous mountain ranges, adrenaline-fuelled stag activities and welcoming vibes, we reckon it's time to get out of the major cities and explore what else the region has to offer. The North Island town of Taupo is exactly what we're talking about. The town sits on the edge of Lake Taupo and is the perfect base for anyone wanting to explore the natural environment.
Popular experiences include deep sea fishing, lake cruises and guided expeditions to see the rock carvings at Mine Bay. Once the sun goes down, there's plenty of local pubs, wineries and other options, to share a drink (or 10) with your mates. Don't let the opportunity pass you by. Wicked Bucks can give you the ultimate experience, without you having to lift a finger (we're basically your dream woman).