Skydiving Taupo Stag Party Ideas
Are you a boy or are you a man? Prove your alpha status, harden up and take the plunge. Skydiving in Taupo the ultimate way to prove your alpha status, get the adrenaline pumping and soak in the views from a whole new perspective – literally. If you thought your Buck was about the take the ultimate leap of faith by marrying his Missus – you're wrong. We've got something to one up him. Skydiving is where it's at. Experience the rush of tandem skydiving and enjoy the vast number of beautiful attractions.
The incredible water and rainforest views sets this experience apart from everywhere else. The only thing we can about more than you having the time of your life, is your safety. These hand picked instructors have probably skydived more times in the last week than you've changed your undies – you could call them the experts. If you only skydive once in your lifetime, do it properly and take the plunge with Wicked Bucks.
Experience Overview
Face your fears
Start the bucks party at heights
Biggest adrenaline rush
Tandem Jump
Get a Quote
Call for Info
Top 5 Reasons to go Skydiving in Taupo
If you're like most people, Skydiving has probably been on your bucket list for as long as you can remember but you've never really made any real attempts to tick it off. That's where we come! All you need to do is rock up and we can take care of the rest. You won't regret it.
Taupo is (in our humble opinion) the prettiest place on earth. Although there are a bunch of ways you can soak in the incredible views from the ground, nothing beats the unique perspective you can gain from the sky.
This activity will separate the boys from the men. If you've got a high school girl like scream, this one may not be for you though – unless you can deal with all the ridiculing from your buddies.
Do you live for the adrenaline rush? This one 's for you. We won't just promise you the ultimate high, we will deliver it too.
Our equipment is state of the art. You might feel like you're on the edge of death, but it's all an illusion. You're really in very safe hands. Try to remind yourself of this when your looking over the edge at how far away the ground is.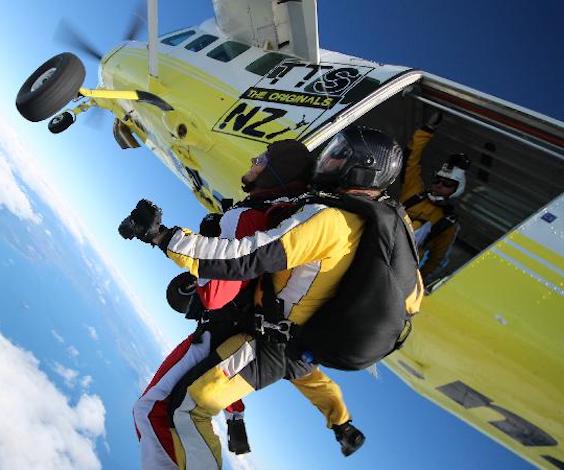 Making the most of Skydiving in Taupo
Ah, Taupo. We love you. We love you so much that we want everyone to know how special you are. We want to shout your name out to the world – or at least a bunch of dudes celebrating their Buck. Although this North Island destination attracts Kiwi and foreign tourists year round, it may just be the country's most underrated town. Bush clad mountains, geothermal hot spots, serene lakes and striking volcanic terrain.. Taupo really does have it all.
Being slap bang in the middle of the North Island, it's also the perfect place to explore the central region of the island. That doesn't mean the town doesn't offer enough by itself though. Taupo has a staggering number of bucks party activities to choose from and promises something for everyone. Kayaking, canoeing, wind-surfing, scenic flights or sailing are just a taste test of the options on offer. Adrenaline junkies will also get their fix. Their biggest challenge might be narrowing down which option to choose. The easiest pick of all is Wicked Bucks. We can make the rest of your decisions as easy as a Sunday morning. Just say the word and we will make it happen.