Jet Boating Experience Taupo Stag Party Idea
Do you have a need for speed? Do you like it rough? Do you like getting wet? We've got the activity for you. Jet Boating at Haka Falls is a once in a lifetime ride. The type that will make sweat pool in your palms and leave you screaming for more. We'll excuse you while you go and pack your suitcase. Thrills, fun and excitement. What more could you ask for to celebrate your Buck? Hukafalls Jet is the only jetboat company permitted to take you to the base of the mighty Huka Falls.
You'll need to hold on tight though, because this bad boy doesn't stop for anyone. Travelling in a state of the art jetboat, you will reach speeds of up to 80km an hour in a matter of seconds. With their trademark 360 degree spins, you won't miss an inch of the postcard perfect view either. If an fuelled, beaming smile isn't enough – wait until you reach the spectacular falls. From the boat, you will have the best water level view of the country's most visited (and most Instagrammed) natural attraction.  
Experience Overview
Wet 'n' Wild
See the best of Taupo on the water
Cruise through Haka Falls
Great for groups of all sizes
Thrill, fun and excitement
Get a Quote
Call for Info
5 Reasons to go Jet Boating in Taupo
Huka Falls are a force to be reckoned with and definitely something that should be on your bucket list – if it isn't already. With more than 220,000 litres of water per second barrelling over the 11 metre high cliff face, it's bound to be a pinch-me-is-this-real moment.
Sure, a regular cruise might be a great way to soak in some scenery, but if you're an adrenaline junkie and lover of all things thrilling then jet boating is calling your name. It really puts a "spin" on the standard sightseeing experience.
Huka Falls Jet has been operating in the same stretch of river since the 90s. With so much experience, they're the most professional and safe services on offer.
If you're looking for a customer review, Huka Falls Jet has carried almost 900,000 passengers to date. Surely you can find at least one raving review amongst them all!
This experience is the way all good rides should be – rough and wet. We don't like rushing things either so we make sure you're enjoying every second of the journey, not just fanging to the final destination.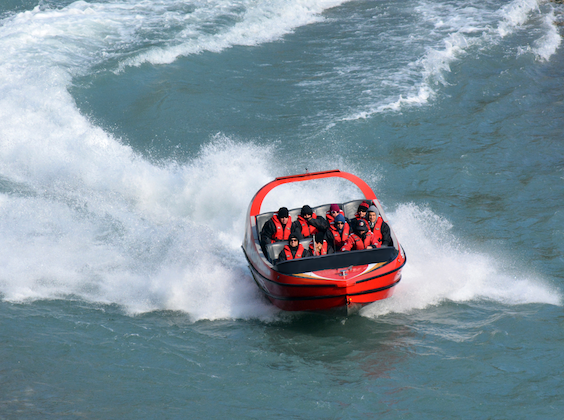 Making the most of Jet Boating in Taupo
Where Taupo lacks in size, it makes up in quality. This little North Island township seriously punches above its weight when it comes to world class experiences. Sitting on the shore of the crystal clear Lake Taupo and only a hop, skip and a jump from Tongariro National Park, Taupo is an adrenaline-junkie's dream come true. Offering everything from skydiving and jet boating to bungee jumping and paintballing, there are enough options to keep even the fussiest Buck satisfied.
In this town you'll also find the country's most visited natural attraction; Huka Falls. The thundering falls and the sheer force of 220,000 litres of water whipping over the edge for every second, is absolutely mesmerising. If you're looking for something a little slower in pace, there are also a number of hikes, hot geothermal pools and scenic reserves on offer. We can hear you packing your bags already. All you need to do is round up the boys – we'll take care of the rest.