Paintball Taupo Stag Party Idea
Get wild, get rough and get puffing – without having to take your clothes off. There is no better excuse to celebrate than in the name of way. Taupo Paintball is the perfect opportunity to fire pellets at your friends and not get arrested.
It's probably been on your bucket list since you were a kid and it'll definitely leave you with some gnarly bruises – It's paintball, of course! The pellets at Taupo Paintballing are so legit, you might even cry. Boasting the largest native paintball field in NZ, you'll be kitted out with a semi-auto, ammunition, safety mask and overalls.  
So even if you've got no idea, you'll still look the part.  
When you hit the field, you'll be in full-scale commando mode and you'll need to channel everything you've learnt from your Call of Duty days. But it's not just the ground that you'll need to keep your eyes on.
Be prepared to be attacked from above as your team mates have a 360 degree site line on you. It may leave you whimpering but at least you'll be a colourful mess.
Experience Overview
Safety equipment included
Great opportunity to shoot the buck
Send the buck as prey
The group hunt is on
Get a Quote
Call for Info
5 Reasons to do Paintball Skirmish in Taupo
Even the most sophisticated, mature of us require a break from 19th century literature, aged cheese and riveting rounds of chess. Paintballing is the ultimate opportunity to step it up a notch and unleash your inner adrenaline junkie. 
Like an unsupervised seven-year-old in a lolly shop, once you get started at Paintball – you won't want to stop. That's why you can play as many games as your heart desires. 
Paintball is set to separate the boys from the man. So put your big boy pants on and round up the lads to see who takes the title home. The inevitable bragging rights should be all the inventive you need. 
 It's two of our most favourite childhood things rolled into one; paint and a competition. Relive your glory days back in primary school playing with your nerf guns, and show the kids you've still got it. 
What guy doesn't love some good ball action? This one is all about the technique and the pace. If you've got those mastered, you're destined to make a home run.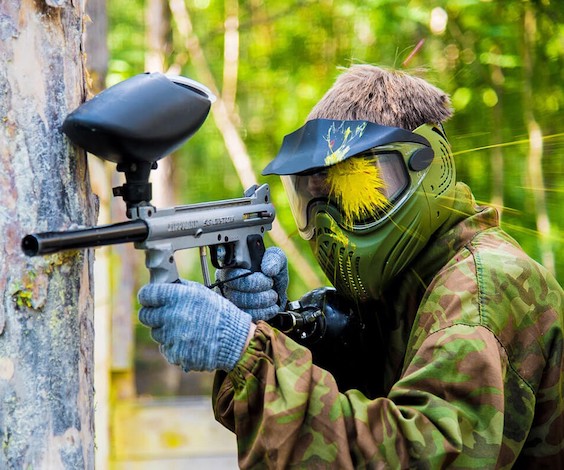 Making the most of Paintballing in Taupo
Taupo may just be New Zealand's best kept secret. It's one of the North Island's most beautiful townships and it's most commonly known for being home to the country's largest lake – but there is so much more than everybody realises. With crystal blue waters and plenty of platforms for an iconic selfie, Huka Falls is a most visit. You can take a dip in the calm waters, swim in a natural hot pool or even visit the nearby rapids for a jet boat ride. Taupo also gives Queenstown a run for it's money with it's impressive array of adrenaline-fuelled bucks party activities.
This small town punches well above its weight – offering skydives, a bungy, a swing. You'll be able to tick off multiple bucket list items in one visit. Don't forget to pack your hiking gear, because Taupo also hots Mount Tauhara. This bush walk might not sound too appealing after a big night out with the boys, but the view at the top will leave you (and your instagram followers) drooling for days. Everybody loves a natural beauty and Taupo really lives up to that title. Wicked Bucks Parties is here to show you the ins and outs of the North Island hot spot. All you need to do is say the word.