White Water Rafting Taupo Stag Party Idea
Everyone knows the best Bucks Parties are the ones that make a splash. Lucky for you, there's no shortage of White Water Rafting in New Zealand. In our completely unbiased opinion, the best experience on offer is with Wicked Bucks in Taupo. There's a tonne of adrenaline-pumping, jaw-dropping, hair-spiking adventures on offer in New Zealand – and it's no different in Taupo. While there may be an array of options to choose from, trust us when we say White Water Rafting takes the cake. The day kicks off at the Turangi rafting base, where the experience and friendly team will kit you out with all the gear. 
Once you're looking like an absolute style icon in your wetsuit, you'll head to the spectacular Tongariro River for a quick briefing. This is where the real fun before. In your raft, you'll navigate 60 rapids in a 13km stretch – more rapids in a row than anywhere else in the country. The thrills, spills and extreme drops will keep your pulse racing and your senses overloaded until the very last second. 
Experience Overview
Wet 'n' Wild action
Adrenaline based activity
Back to nature experience
Unique activity
Get a Quote
Call for Info
Top 5 Reasons to go White Water Rafting in Taupo
First time? No worries! Your rafting guide will help you navigate the dips, coordinate your paddles and ensure you're given a wild, wild ride. 
White Water Rafting will take you past sights you can only see by raft. The Towering pine forests, native bush and volcanic cliffs are more spectacular than any National Geographic documentary you can get your hands on. 
This ride is anything but smooth sailing. It's rough, it's wild and it's wet. Just the way you like it. 
Did it really happen if you didn't chuck it up on Instagram? We'll take plenty of photos for you throughout the trip, so you can laugh at your mates faces of horror as they approach the extreme drops.
We promise you're in good hands. The super passionate, experienced and friendly team will give you all the tips and tricks until you feel like a natural.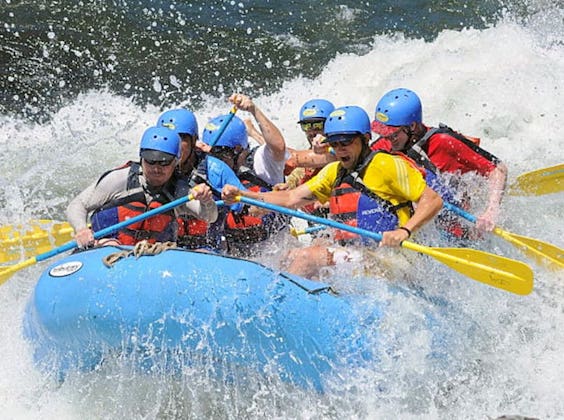 Making the most of White Water Rafting in Taupo
The best way to describe Taupo is laid back and scenic. Bordering the massive Lake Taupo, this North Island destination in hidden away from the hustle and bustle of the big cities, and is home to some of the most idyllic scenes on earth. Only a short jaunt out of the CBD, you'll find the country's most photographed natural attraction – Huka Falls. A mind-blowing 222,000 litres of water rushes down this cliff face every second. You can get a great view of the thundering water from the pedestrian bridge. If you want to step it up a notch, there are enough adrenaline-fuelled stag party activities to keep even the biggest of thrill-seeking junkies happy. 
You can tandem skydive from a plane, race your mates around the Go-Karting Track, kayak your way through the scenic lake, or plenty more. Once the sun goes down, the locals come out to play. The selection of nightlife options is sure you keep you wined and dined until the sun comes up. As you can probably tell, we could rave about Taupo all day long. But what's the fun in that? We think you need to experience it for yourself. Wicked Bucks can show you the ropes and give you a Bucks Party that you'll still be talking about for years to come.