Race Car Experience Taupo Stag Party Idea
Lads, it's time to roll the clock back. It's the mid-90s and you're sporting a sweeeeet set of wheels; known as your beloved billy cart. Sunday arvo only means one thing – it's time to race those testaments-to-Dad's-non-handy-skills at a very unsafe speed. You made it through that alive so now we've got the real deal on offer. An actual race car experience. Made by proper race car mechanics. 
Not your Dad. We learnt everything we know about race car driving from our childhood spent playing Mario Kart- where the kid next door imparted his wisdom of how to avoid the banana peels without missing out on the mushrooms. We may not have bananas and mushrooms but this is the next best things – so don your red cap and twirl that moustache because we're going for a ride. Usually reserved for the professionals, you can experience the fun of driving a v8 and single seater race car with Wicked Bucks. After 8 laps with one of our in-car consultants helping you along, you'll leave on an absolute adrenaline high.
Experience Overview
Time for some hot laps
Experience the V8 power
Stricly no drinking
Great activity to start the day
Vehicles included
Safety equipment included
Get a Quote
Call for Info
5 Reasons to do a Race Car Experience in Taupo
This is the only place in NZ where you can drive a race-prepared v8 and single seater race car, all in one day?! Treat your Buck to an experience as unique as his personality.
These bad boys can get up to 240 km per hour in a matter of seconds. When you're sitting on the front seat, controlling the beast, you'll feel like all your Grand Theft Auto dreams came to life.
It may not be an actual race, but there's nothing stopping you from throwing a little competition into the mix. Send the boys head-to-head and last one across the finish line is a rotten egg (or we're sure you can think of something more creative than that)
You don't need to be a Top Gear enthusiast to get something out of this. A race car experience will suit both novice and experienced drivers alike.
This venue has hosts some of the biggest Motorsport events in the country. Accompanied by the world class driving instructors, this experience is about as close to the real deal as you can get.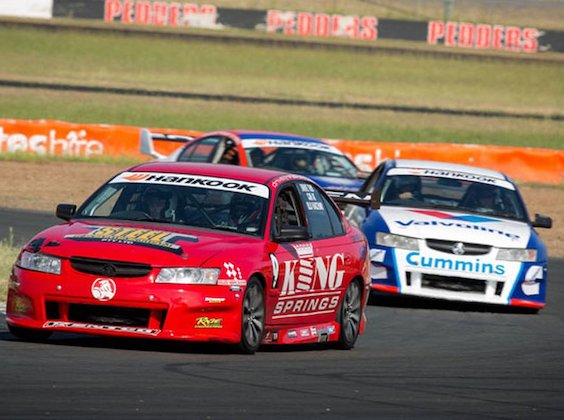 Making the most of a Race Car Experience in Taupo
Taupo is the type of place you can plan to stop in for a day, and end up leaving a week later – without having ticked off everything on your bucket list. As one of the most beautiful townships on the North Island, it's practically an outdoor enthusiast's dream come true. Huka Falls are New Zealand's most visited natural attraction and for good reason too. With crystal blue waters and stunning rock faces, there are enough selfie opportunities to keep your instagram followers drooling onto their screens.
The nearby natural hot spring are the perfect way to relax after a long day of travel but just around the bend, the rapids are more suited to an adrenaline-fuelled jet boat ride. In fact, Taupo punches well above it's weight in the adrenaline sector. With skydives, a bungy and a swing, this town could probably give Queenstown a run for it's money. As you can probably tell, we could sing the praises of Taupo until the cows come home. It's probably better if you experience it for yourself. There is no other way to do it than with Wicked Bucks.