Jet Skiing Taupo Stag Party Ideas
What do you get when you mix Fast and Furious with Australasia's biggest lake? Okay, captain obvious… We are talking about Jet-Skiing. If you think Jet-Skiing is only for tourists or for the faint hearted, you've obviously never opted for the full throttle experience. Don't have a couple of jet-skis parked in your garage? It's okay, not many of us do. Even if you are the lucky owner of one of these bad boys, you probably won't have room in your luggage to bring in to Taupo.
To save you the effort of trying to make friends with a local who has one, Wicked Bucks can hook you up with the real deal. Sitting in the driver's seat, you can get a taste for what 130 horsepower on water feels like. There's no licence or experience necessary – just a sense of competitiveness and a willingness to fly past your friends at full speed. 
Experience Overview
Jet Skis included
Scenic ski around Lake Taupo
Strictly no drinking beforehand
Fun day out on the water
Great for small bucks groups
Get a Quote
Call for Info
5 Reasons to go Jet Skiing in Taupo
This is the ultimate adrenaline-fuelled activity for the adventurous at heart. If you're eager to feel the wind in your hair and have horsepower at your fingertips, then jet-skiing with Wicked Bucks is for you. 
Do you like to consider yourself a multi-tasking master? Jet-skiing on Lake Taupo will allow you to fuel your need for speed, squeeze in some sightseeing and race your mates. Tick, tick, tick!
You may not be battling ocean-waves, but jet-skiing on Lake Taupo will give you just as many thrills, spins and bumps. Luckily, we heard you like it rough. 
We'll provide all the gear so that even if you've got no idea, you'll still look the part. We promise to (try) not judge you for wearing a wetsuit. 
We know that all the greatest things in life, are best shared with your mates. With our twin-seater skis, you'll be close enough to hear your buddy's high pitched squeals as you take the sharp corners.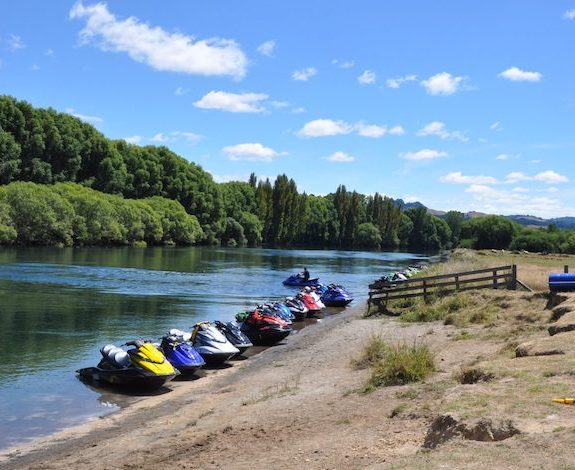 Making the most of Jet Skiing in Taupo
The lake district of Taupo was named New Zealand's best place to visit – and for good reason too. With a myriad of natural, cultural and tourism highlights, Taupo promises to tick all of your boxes. In this North Island destination, you won't see any skyscrapers or highrises. The overgrown small town is as friendly and non-intimidating as your Great Uncle Bob. The scenic backdrops, crystal clear lake waters and rolling mountain ranges make it a sanctuary for any National Geographic fan.
If you're looking for a bit of fast-paced action, Taupo lives up the adrenaline-rush reputation of New Zealand, offering the highest water-touch bungy jump in the country. As you reach the top and take a deep breath, you'll be reaching speeds of 70 kilometres an hour before you know it. Let Wicked Bucks show you why 30,000 visitors from around the world make their way to this charming town every year.