Wakeboarding Taupo Stag Party Ideas
If you're always on the hunt for your next stomach-dropping sport, look no further. We have the activity every thrill-seeker needs to tick off their bucket list. Let us present to you: Taupo Wake Park. This figure-8, water course is nestled in the heart of Taupo and we promise it will leave you yahoo-ing until the cows come home. Buckle up boys, this ride is going to be just the way you like it. Rough, wet and fast-paced. Operating in a man made lake beside the Waikato River, this electric cable system runs between two towers with a ski handle pulling you in a continuous figure 8. 
It's a throwback to those childhood afternoon spent riding behind a boat – only easier and more fun. You'll be kitted out in all the gear and even if you have no idea what you're doing, you'll be flying around the course before you know it. The professional instruction isn't limited to before you hit the water either. Equipped with a radio helmet, you'll have professional coaching for the entire session. Whether you're a gun boarder or you've never been towed in your life, Wakeboarding in Taupo promises a good time for everyone.
Experience Overview
Wakeboard included
Test out your skills
Watch your mates face plant
High chance of quality laughs
Get a Quote
Call for Info
Top 5 Reasons to go Wakeboarding in Taupo
You are in control. You can ride these bad boys for as long as you like. Pick from a quick 10 minute session, right up to a full day pass. You say the word and we'll make it happen.
There are no age limits, as long as you are comfortable on the water. That also means there's no excuses for not getting in on the fun. Invite everyone!!
Rain, hail or shine, this cable system is ready for action. Being protected in their well formed pond, Taupo Wake Park can get anyone up riding like a pro regardless of the weather.
If you want to step it up a notch, the park also includes a range of jumps and obstacles for you to tackle. If that doesn't channel your inner competitive streak, we don't know what will!
When you're up and showing off your new-found skills, you'll be feeling pretty boss. Wait until the ladies here about this one. They'll be lining up down the straight to hear your stories of impending fame.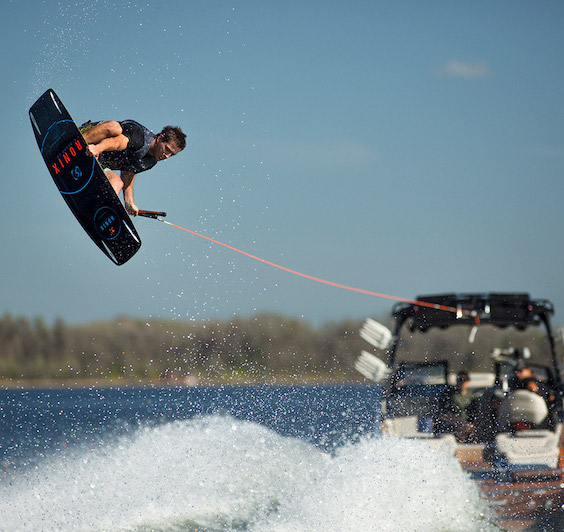 Making the most of Wake Boarding in Taupo
A trip to Taupo is a must. The town is renowned for offering a myriad of attractions – literally everything from adventurous activities to chilled-out vibes. The town's namesake Lake Taupo is definitely the most renowned attraction of all. A water mass the size of Singapore that was carved out of several thousands of years worth of volcanic activity, Lake Taupo is 616-square-kilometres of beauty.
Beyond the postcard perfect views, it's also a popular spot for white water rafting, paintball, jet boating, quad biking and sailing. Just a hop, skip and a jump away you will find the natural reserve that is Spa Park. Here you will be treated to the crystal clear waters of the hot pools – the perfect place for you to kick back, relax and wash your worries away. Here is just a little glimpse of what is on offer in the wondrous town of Taupo. For the real BTS experience, you'll have to book in to see it for yourself. Give Wicked Bucks a holler and we will take the hard work out of planning your Bucks celebrations.