Go Karting Taupo Stag Party Idea
Are you ready to inject some real-life Mario Kart into your life? Go Karting in Taupo with Wicked Bucks is as close as you can get to the real deal. Don't let anyone ever tell you that your video gaming addiction is for nothing. Forget the controller (for a day) and relive your favourite childhood Mario Kart memories IRL. These french built 390cc karts have the biggest engine of any recreational kart in the world – so you'll be hitting the track and mind blowing speeds.
The specially designed track allows you to enjoy the tight twists and turns but also have the opportunity to plant your foot on the opening straight. For the faint hearted of the group, there is also a viewing area right on the edge of the track to keep spectators entertained (and hydrated with the good stuff). So whether you're a gun speed demon or you've won the title of Grandpa Driver, Go Karting with Wicked Bucks promises to be a bunch of fun for everyone. 
Experience Overview
Great for large groups
Perfect for the competitive lads
Strictly no drinking before
Race girls available
Get a Quote
Call for Info
Top 5 Reasons to do Go Karting in Taupo
Don't let anyone ever tell you that you're too old for toys. Racing in these bad boys will have your inner child yahoo-ing with joy. 
A little bit of healthy competition never hurt anyone. Split your group into teams and send them head to head with the promise of podium presentations for the top finishers. It's destined to bring out the best (or worst) in everyone. 
With so many twists and turns, we can't promise the ride will be all smooth sailing. But we heard you like it rough anyway. 
Go Karting is the ultimate adrenaline pumping activity. Whether you're a speed demon or not, this is the perfect opportunity to set the pace for an epic night to follow. 
Got someone a little smaller tagging along? No problem, there are karts of all sizes available to ensure that nobody misses out on the fun.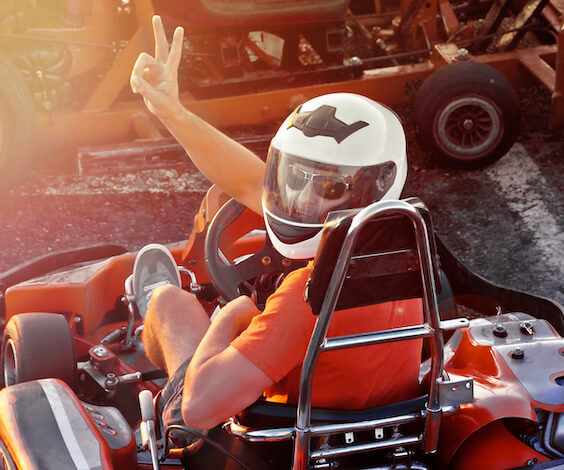 Making the most of Go Karting in Taupo
The sun is barely up, with a light wind coming off the lake, carrying a tang of salt and a misting of spray. That's what you can expect when you wake up in New Zealand's Taupo. The lakeside town provides a base for visitors who love the outdoors. You can spend your days fishing for trout, sailing charter on Lake Taupo, exploring geothermal phenomena or hiking to secluded waterfalls. Adding to this generous nature-bestowed location, travellers will also be treated to an array of nightlife options.
Whilst it may not be as bustling at the nation's larger cities, Taupo still boasts a healthy selection of after hours options. You can put it all on the line for a private poker night, or visit the brewing grounds of some of New Zealand's best beers. The best part of Taupo is that there is something for everyone – and Wicked Bucks has all the local secrets.