Bungy Jumping Taupo Stag Party Ideas
Sending a call out to all adrenaline junkies – We have an offer for you. There's something about the free-falling towards (un) certain death before snapping back to reality that makes everything all the more exciting. Bungy Jumping is Taupo is just that. Does your heart start pumping when you see your Missus? Does it feel like it could pop out of your chest? If you thought it couldn't pumping any faster, you would be wrong. 
Taupo's bungy jump is the most popular on the North Island for a reason. The unique cantilever platform projects out from the cliff-top, above the mesmerising waters of the Waikato River below. You can prove your manliness and jump solo or opt for comfort and go tandem. We won't judge (or at least tell you that we are judging). Reaching speeds of up to 70 kilometres an hour as you plummet through space, this experience is the ultimate combination of adrenaline and wonder.
Experience Overview
Big adrenaline rush
Safety equipment included
Highly trained professional crew
Reach speeds of 70km/ph
Solo or tandem options
Get a Quote
Call for Info
Top 5 Reasons to go Bungy Jumping in Taupo
With over 25- years of operation, these Bungy Jumping operators are pretty much the experts. The highly trained crew pride themselves on providing an exhilarating and safe experience for everyone.
If you're like most guys, Bungee Jumping has probably been on your bucket-list since you made one. If you're only going to do it once, there is no better place to get it done than in Taupo.
If you compare it to marriage, this leap of faith is basically a walk in the park.
There are no excuses here either, you can jump alone, tandem or even naked (although we don't recommend the last option).
Taupo is touted by locals as the most extreme activity in the region, so it's got the local tick of approval. Apart from that all-encompassing hit of adrenaline, the best part is the beautiful view from up the top.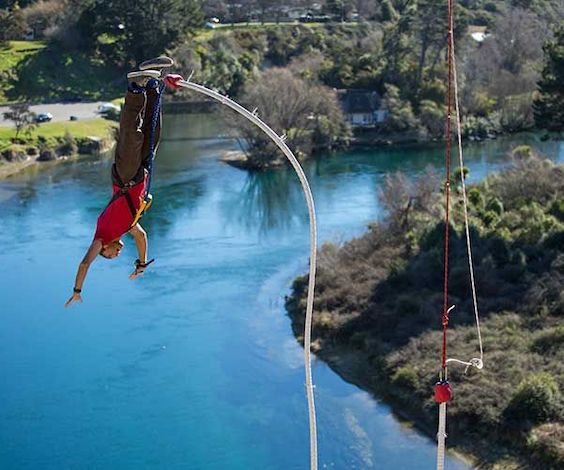 Making the most of Bungy Jumping in Taupo
Taupo really is the heart of New Zealand's stunning North Island. At the centre of the region is sparkling Lake Taupo – commonly referred to as the country's great inland sea. Within a hop, skup and a jump of this lake, you will find every landscape you could ever imagine. There are snow-blanketed winter ski fields, alpine deserts, ancient forests, trout-filled rivers, thundering waterfalls and steaming geothermal valleys. It's basically a National Geographic documentary come to life.
As the town attracts Kiwis and foreigners year round, there is also an abundance of bucks activities to keep you busy. These range from slow paced hikes to adrenaline-fuelled sky diving. There is something for everyone. Wicked Bucks is here to customise your Bucks celebrations and give you the experience of a lifetime. Round up the lads and get ready to be in awe. You won't regret your decision.