Craft Brewery Tour Taupo Stag Party Idea
A Brewery Tour with the boys – do we really need to say anymore? The beer crew of Taupo are the experts when it comes to putting on an afternoon session with the lads. It might even be a little taster for an epic night to follow.  Are you ready to jump on a bus with a group of mates, crank the tunes and hit up Taupo's best hidden breweries? Dumb question…Of course you are! 
Taupo hasn't missed out on the growing craft beer movement and is home to a string of impressive craft breweries. On a Wicks Bucks Brewery Tour you'll get to try a bunch of delicious beers, get the full behind-the-scenes tour, as well as plenty of food to keep you going. These joints are award winning for a reason. One taste, and you'll understand why. 
Experience Overview
Award winning craft beer
Taste a range of delicious beers
Perfect for large bucks groups
Plenty of nibbles included
Get a Quote
Call for Info
5 Reasons to do Craft Brewery Tour in Taupo
We like to think we're just as flexible as your Mum's yoga instructor. We're flexible with our tours and you can pick the venues and itineraries you want. We can also drop off and pick up at a place of your choosing. 
There's no need to worry about losing your mates along the way. With everyone travelling on the bus together, you'll all reach your destination (hopefully) in one piece – without any exxy Uber fares or complex public transport systems. 
These beers are brewed from Taupo's purest natural water and boast malty, hoppy flavours. The moment you raise it to your lips, you'll understand the true meaning of love. 
If you're not a beer lover, what's wrong with you?! Just kidding…kinda. These breweries also offer and small but mighty menu of local wines and spirits to taste. 
Rain, hail or shine, a Brewery Tour goes on! This is one activity that won't keep you up the night before, praying to the weather gods.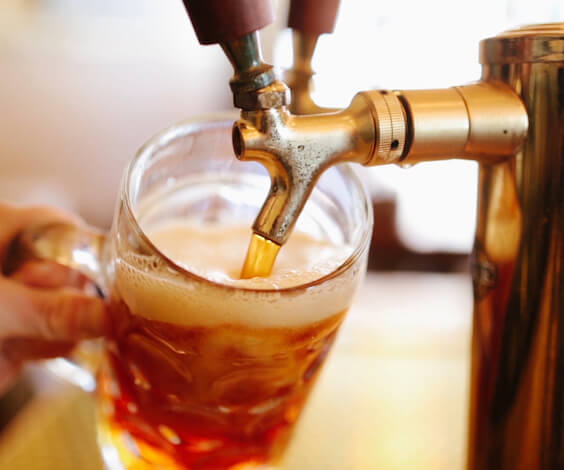 Making the most of a Craft Brewery Tour in Taupo
At the centre of Taupo, lies the region's sparkling gem – Lake Taupo. After just one glimpse at the glistening, crystal-clear waters, you'll understand why so many tourists make their way to this North Island destination every year. The nearby mountain ranges are snow-blanketed ski fields in winter, and the trout filled rivers and thundering Huka Falls put on an impressive show year round. If you can drag your eyes away from the scenery for long enough, you'll also discover the lakeside town punches well above its weight in the nightlife department.
Not many small towns can offer such a bustling after-hours scene. As you can probably tell, we could rave about Taupo until the cows come home. But we think it's probably better that you see that magic for yourself. Wicked Bucks can show you all the ins-and-outs with a Bucks Party for the history books. All you need to do is round up the boys and pack your bags – We'll make the rest happen.