Sailing Charter Taupo Stag Party Ideas
If sailing the seven seas on an electric yacht isn't on your bucket list, you probably haven't heard enough about it. Wicked Bucks doesn't just promise the best cruise on the lake – we deliver it too. There is only one word for A Sailing Charter through the crystal clear waters of Lake Taupo, on New Zealand's only commercially operated electric yacht – Incredible. Don your sailors hat and get ready to experience the high life, on board one of two commercially operated electric yachts in New Zealand. The 2.5 hour cruise will take you across the crystal clear waters of Lake Taupo and to the extraordinary 14-meter high Mine Bay Maori Rock Carvings. 
But because all good rides are about the journey and not just the destination, you'll also have the opportunity to kick back and relax on this refurbished kauri white yacht, without all the fumes, noise and pollution that comes with other boats. If you want to step it up a notch, you can roll up your sleeves, take the wheel and help hoist the sails. Just when you thought it couldn't get any better, these boats are also BYO – so you can pack as many cold beevies as you can fit in your eskie. Talk about a dreamy combo.
Experience Overview
2.5 hour cruise
BYO alchahol
Sail one of the Seven seas on yacht
Enviromentally electric powered yacht
Start the bucks party in style
Get a Quote
Call for Info
Top 10 Reasons to do a Sailing Charter in Taupo
These unique party boat cruises aren't just a good time for you and your mates – they're good for the environment too. The eco-friendly constructions of these yachts means there are no fumes, no noise, no pollution or unburnt fuel left on the surface of the lake.
You haven't seen Taupo until you've seen it from the water! While you're lounging on the spacious desks and sailing across the Lake, you'll have the best seat in the house to soak in the postcard perfect scenes.
There are no neighbours to rain on your parade. Out on the lake you can drop the bass as loud as you like, without attracting noise complaints from your neighbours. Cue: that 90s RnB playlist you (not so) secretly love.
This business has been locally owned and operated for over 30 years. With so many years of rich experience, these boaties are basically the go-to people when it comes to discovering Taupo's cultural history.
Hasn't every guy dreamt of living a day in the life of a Hollywood A-lister? This is your opportunity. You'll feel like you've been transported to another – far more glamorous – world.
Our sail charters can be customised to suit everyone. You can opt for the BYO option – and enjoy your own drinks and nibbles. If you really want to kick back, why not let Wicked Bucks wine and dine you with a complimentary bevvy (or 10).
We're all sustainability. Our eco-friendly yachts mean there are no fumes, no noise and no pollution. Without the distraction of roaring motors, the landscape will only feel even more serene. 
No wind? No problem. Our sail charters can also be electric powered. That means we can take your out to seas in (almost) any conditions!
This is a one-off experience that you won't be able to find anywhere else in the country. Why? Because our yachts are the only two commercially operated electric yachts. 
When you're sailing the seas, sipping your drink and soaking in the luxurious ambience, you'll feel like the true Hollywood A-Lister that you deserve to be.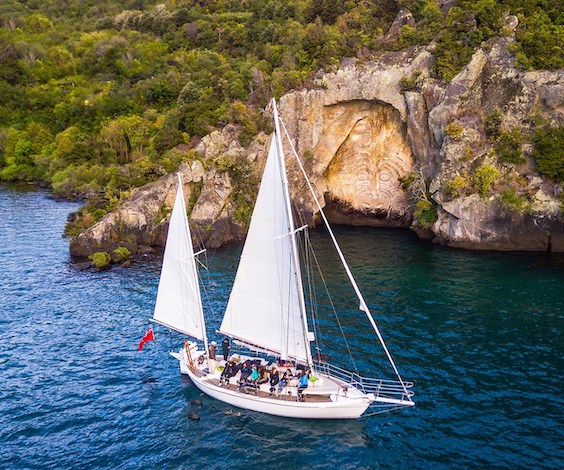 Making the most of a Sailing Charter in Taupo
Cruising towards Taupo, you'll want to keep your eyes peeled for the first glimpses of the iconic Lake. It's a sight not to be missed. Surrounded by snowy peaks, this glistening expanse of blue water is undeniably Taupo's biggest drawcard, but isn't the only attraction this area has to offer. Just a hop, skip and a jump out of the town, you'll find an 11-metre, thundering waterfall. As the most photographed and visited natural destination in the country – you'll have plenty of opportunities to snap a selfie and boost your Instagram game.
After a long day of exploring the abundance of walking tracks, fishing locations and rock carvings, you can wind down in one of the many hot pools in the area. Just because this waterside town is small, it doesn't mean it becomes dormant after the sun goes down. You'll find an impressive range of nightlife options to suit every taste and budget too. It really doesn't get any better than Taupo. 
Well Taupo may be recognised for its Lake but there is far more to this North Island haven than just that. The little town in an excellent base to explore the central region of the island and has also grown into an adrenaline-junkie hot spot. There is an abundance of hiking, boating and river-rafting opportunities for the adventurous Bucks out there.
For something a little slower pack, the Taupo region is full of geothermal activity and the wild-colour silica terraces, hot spins and steam vents bursting from the ground and the perfect opportunity to kick back and relax with your mates. Taupo is basically David Attenborough's dream come true – and soon it could be yours too. All you need to do is say the word and Wicked Bucks will whisk you away for the ultimate Buck's celebration.