Kayaking Taupo Stag Party Ideas
Hold your high school camp-induced PTSD at bay lads, this weekend we're going Kayaking. Wicked Bucks can bring you so much more than moist shorts and a panicked "Come and pick me up" call to the old folks. Unlike many of your other teenage memories, kayaking is actually pretty darn cool. Are you keen to hit the open water? Risk being sunburnt in places that may have never seen the sun before? Don't want to miss out on arms day while you're away? Kayaking is the solution for all your activity problems. 
Taupo Kayaking Adventures are the go-to crew. This mob specialises in guided scenic tours on the country's largest freshwater lake and can customise the experience to suit your check-list. On your personalised adventure you can paddle below native bush, past steep cliffs and mini inlets that can only harbour a kayak before the iconic 14-metre high carvings come into view. We're firm believers that no trip is complete without a healthy serving of snacks, so we'll never refuse a stop for gourmet refreshments on the return leg. Talk about a dreamy day out!
Experience Overview
Kayak included
Unique bucks activity
No skills required
Paddle past steep cliffs, native bush and inlets
Get a Quote
Call for Info
Top 5 Reasons to go Kayaking in Taupo
Lake Taupo is magical at any time of the day. During the day you can prepare to be wowed by the impressive volcanic fan of rocks emerging from the lake or the ancient Maori carvings at Mine Bay. If you opt for an evening paddly, you can take in the sunset and beautiful mountain views from your kayak, spotting wildlife as you go.
Think of the instagram content. Your followers will be drooling. You might even see a few cheeky messages sliding into your DMs. Don't worry, we won't tell your Missus.
This is the perfect activity to give something to everyone. Whether they're a gym junkie looking for their work out or a budding David Attenborough, all your Buck's Party guests are guaranteed to be raving about their day out on the sea for weeks to come.
Travelling with your buddies is all fun and games until you reach the 7th night of Jim snoring or have to sit through another one of Peter's recounts of that time he went on a date with a Swedish model (the story he tells at every opportunity). Kayaking is the perfect opportunity to blow off some steam before you blow of your mates' heads. You can thank us later.
New Zealand is pretty much synonymous with natural beauty. Taupo is no exception. There is no better way to see the landscape in all it's glory than from the water.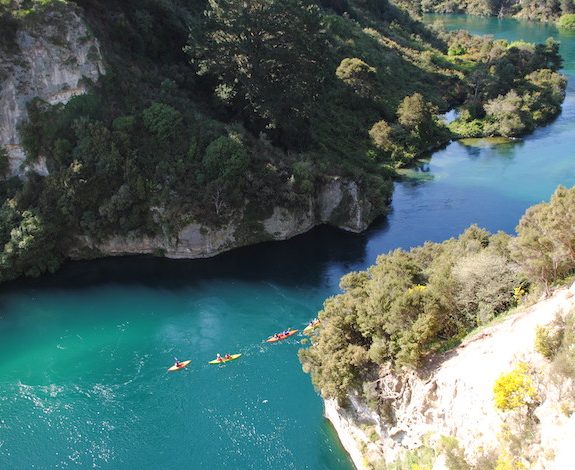 Making the most of Kayaking in Taupo
Pronounced "Toe-Paw" by the locals, Taupo is known for many things and for good reason too. The North Island is surrounded by Lake Taupo, Waikato River, Forest, Volcanic activity, Mount Tauhara and Tongariro Alpine Crossing. To put it simply, you won't be short on things to do. Not only does this town offer everything a National Geographic doco would feature, it's also has quite the night life too. It's pretty unheard of to find yourself in a scenic lakeside town with a bit of buzz in the air, but true it's reputation – Taupo has achieved the unachievable. With so much on offer in the area, Taupo is only missing one thing. You and your buddies. Round up the lads and get ready to celebrate in the only way Wicked Bucks knows how. Big. This will be one to remember.