Bubble Soccer Taupo Stag Party Idea
It's big. It's inflatable. It might leave you little sore and bruised. It's Bubble Soccer and it's an action packed session of bouncing around inside a gigantic plastic ball with your best mates. Don't pass up this opportunity to bang (into) your mates! Rally the squad and get ready to play rough. It's all for the sake of Bubble Soccer. Yes, the name really says it all. This is soccer in a giant inflatable bubble and it's just as awesome as it sounds. 
Taupo Bubble soccer involves two teams getting into man-sized bubbles and playing soccer – without any faults, yellow cards or penalties. The aim of the game is to smash into each other, bounce around and put your body on the line to stop your opponent from scoring a goal. You can tackle, body slam, roll around – and the bubble keep it fun and safe. You might be laughing too hard that you'll struggle to actually keep score. 
Experience Overview
Bounce, Bump and Roll
6-12 players
Great for large groups
Get inside an inflatable ball
Run and smash your mates
Get a Quote
Call for Info
5 Reasons to do Bubble Soccer in Taupo
Everyone knows that a bit of healthy competition is all it takes for the lads to get fired up. It's hard to forget that you're not a teenager anymore, as you can't throw your body around quite as easily. The best part about Taupo Bubble Soccer is that you can get in on all the high-speed action, without any injuries! 
Watching is just as fun as playing. From the side lines you'll be able to see your buddies bounce around upside down, with their legs in the air – and what more could you want?
Wicked Bucks is just as flexible as that gymnast you once dated. We can line up Bubble Soccer to be played indoors or outdoors, and with anywhere from 6-12 players on the field. 
We might not be able to offer much more than bragging rights for the winners, but isn't that the best part anyway? 
You might leave this game a little more bruised than when you started. Luckily we've heard that you like it rough.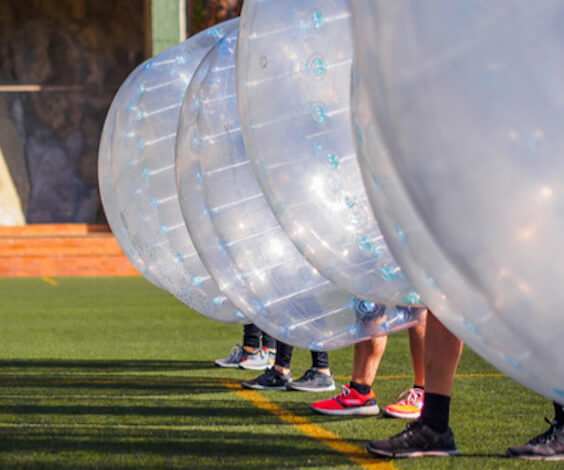 Making the most of Bubble Soccer in Taupo
The heart of New Zealand and a hidden gem. Taupo might just be the country's best kept secret. As you travel around the lakeside town, you will find just about every natural landscape you could ever imagine. The snow-blankets winter ski fields and alpine deserts, make the perfect backdrop to the crystal clear waters of Lake Taupo. The thundering Huka Falls is New Zealand's most photographed site and is the perfect opportunity to snap a selfie – and step up your Instagram game.
The trout-filled rivers are also the ultimate destination for every adrenaline-junkie. You can throw your body out of a plane, off a cliff, around a Go-Karting track or into an inflatable bubble – all within a hop, skip and a jump of the CBD. With an impressive list of nightlife options, you might struggle to find enough time to visit them all. This really is where dreams come true. Let Wicked Bucks bring make that dream your reality.