Bucks Brew Bus
Hold on tight because the wheels won't be the only thing going round and round on this bus. The Wicked Bucks BrewBus is a wild ride, fuelled by booze, babes and banter. We're committed to giving the people what they want: Beers. How they want it: In large quantities. And when they want it: Now. It's safe to say we know all the best local spots that just happen to serve up a killer batch of golden nectar. 
Calling all beer lovers! (A.K.A Every guy to ever exist). Wicked Bucks has devised the best new way to sample all of the tasty, yeasty goodness that Tauranga has on offer. Whether you're a seasoned beer swiller or you're just looking for an excuse to sink a couple of bevvies with the boys, BrewBus should be your first priority during a visit to Tauranga.
Run by a team of local and self-titled "experts", you can expect a sneak peek of all the hidden gems. After loading you onto the comfortable and spacious party bus, the driver will be your personal chauffeur for the day. With your private transport and tinted windows, you can pump the tunes as loud as you like and get as rowdy as you please, without having to deal with any fussy mood-killers. Each venue on the tour will treat you to a tasting of their latest and greatest concoctions, as well as limited edition specials from their trials.
When you finish sinking a few, you can soak in a behind-the-scenes look at where all the magic happens. You'll hear from the experts as they tell you the stories behind their beer and you'll finish the tour with a delicious set lunch, paired of course with some fine local craft beer. What more could you ask for? 
Experience Overview
Beers and mates!
Learn how your favourite beer is made
Your own private bus and driver to take you to each venue
Food available throughout the day
Get a Quote
Call for Info
Reasons to hire a Bucks Brew Bus
Every guy has two main loves in life: Good pals and great beer (Don't let your Missus hear you say that out loud though). The Tauranga Brew Bus combines all of that greatness into one day of pure bliss. It's practically heaven on earth. 
We are OG fans of Tauranga. After spending so much time in the area, we've got a pretty good insight into the best offerings in the region. Just because we're the caring, sharing type of blokes, we're ready to let you in on our brewery secrets. All we can say is that it's freakin' epic. 
While bucks parties are practically synonymous with beers and boys, keeping everyone together is no easy feat – especially when you're in a new city. Instead of forking out for exxy ubers, trying to navigate complex public transport systems or just refusing to leave your hotel, let Wicked Bucks take the wheel. Our Brew Bus will get the entire gang from A to B in (mostly) one piece and will mitigate any potential arguments over who needs to be designated driver. 
All that beer sinking is likely to work up your appetite. Luckily booze isn't the only thing these venues have downpat. Our Brew Bus includes a heft serving of grub, that will kick those mid-afternoon hunger cravings before they even hit. 
Want to keep going all night? One of the best parts about our tour is that we'll drop you all back to your hotel afterwards, so that you can kick on in the city that night.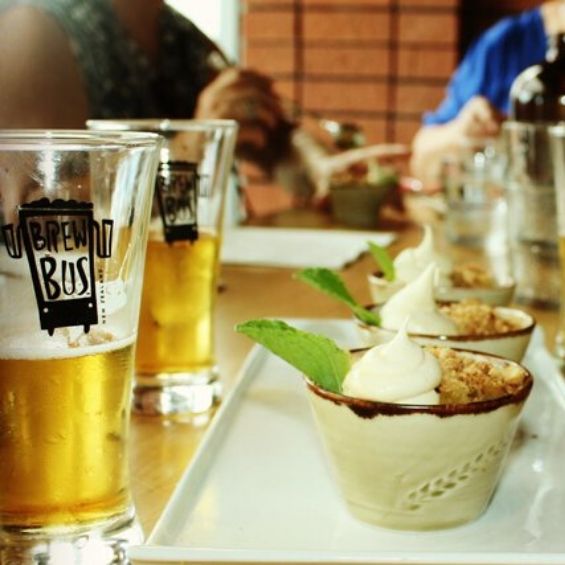 Making the most of BrewBus Tauranga
Despite what you've been trying to tell yourself for years, size does actually matter. Just like Goldilocks says; you need something that isn't too big, isn't too small but is just right. Tauranga is exactly that. With a population of 130,000, the North Island city is the fifth-largest city in New Zealand and the major urban centre for the Bay of Plenty. So basically, the region offers everything that you can expect from a major city, without all the unwanted hustle and bustle.
The CBD is interlaced with cobbled streets and old-school architecture, including both original and replica buildings. Dotted with cafes, boutiques, restaurants and markets, you can easily lose hours meandering your way around the city. If you venture a little further away, you'll be met by an idyllic stretch of coastline. We're talking glistening blue waters, golden sandy beaches and an abundance of local wildlife. This landscape is the perfect place to try your hand at surfing, snorkelling or kayaking, or you can opt for land based activities like mountain biking and hiking.
Attracting thousands of tourists from around the globe all year round, means Tauranga is a hot spot for nightlife. It's the type of place where you can party the night away on a Monday, and no one will even blink an eye. Sounds pretty perfect? It's every bit as epic as it seems. Show your mate some love before his big day, Tauranga style. Wicked Bucks will take care of all the logistics so that you can enjoy every second of the fun.