Bucks Fishing Charters
So your mate has hooked himself a keeper. He's found "the one" and against all odds, she's agreed to put up with his snoring, terrible fashion sense and cringe-worthy jokes for the rest of her life. In his joyous state, the soon-to-be-groom is probably telling you that "there are plenty more fish in the sea". And he's right, especially when it comes to a Wicked Bucks fishing trip in Tauranga. There are literally thousands of fish here – the swimming-in-ocean kinds of fish, that is!
With more and more of your mates starting to peel away from the group and settle down into married life, quality time with the boys is probably becoming less and less frequent. With that in mind, your buddy's Bucks Party is the perfect excuse to get everyone together and bond over every guy's favourite pastime – fishing. Fishing in Tauranga is more than a popular hobby, it's a way of life.
Fishermen from across the globe flock to the Bay of Plenty region to cast their lines and cross their fingers.
While there are a few spots where you can fish from the beach, jetties or wharves, nothing compares to a full day out on the water. Driven by your expert fishermen captain, your privately chartered deep sea fishing boat will pick the lads up from the shore and take you out to conquer the seas.
We'll provide all the gear, including tackle, bait and lures, which is everything you'll need to catch mullet, snapper, flounder, kingfish, bluenose and more . Even if you're not much of a fisherman, the glistening waters, rugged cliff faces and view back across the city is well worth the trip.

Without the threat of nearby neighbours or noise restrictions, you can pump the tunes and belt out all your favourite classics at the top of your lungs without the cranky lady down the hall telling you to quiet down. If you do manage to snag a good catch, you can cook it up on the on-board BBQ. It's simple living and good times at their finest. 
Experience Overview
See why Tauranga is internationally known for fishing
All fishing gear is provided
On-board BBQ
You'll have your own expert fishermen captain
Make it a competition to see who catches the bigger fish
Get a Quote
Call for Info
Reasons to do a Bucks Fishing Charter
Most people think of fishing as a slow paced activity that is purely reserved for retired men. Anyone with that belief has obviously never been out to sea with Wicked Bucks. We like to make everything a bit of a competition, which is why we split the group in teams, to go head-to-head. With bragging rights on offer, the incentive to catch the biggest fish has never been more appealing. 
The waters surrounding Tauranga are internationally recognised for fishing. Keen fishermen from across the globe make their way to this coastal destination all-year round and "a bad day out to sea" is almost unheard of. 
Regardless of what you might try and tell yourself, if you're a guy, your multi-tasking ability is pretty much existent. However, while you're sitting on the boat catching bucketloads of fish, you'll also be spending quality time with mates, enjoying the beautiful scenery and ticking off a few of the region's major landmarks off your bucket list too. That sounds like some pretty epic multi-tasking to us. 
Tee-ing up a privately chartered fishing trip with Wicked Bucks means that you won't need to fight over who is going to be designated driver. With our expert fishermen captain behind the wheel, you've got our permission to sink a few bevvies. 
Tauranga is beautiful. It's stunning. It's so picturesque that you'll be pinching yourself awake the entire time. While you can enjoy the scenery from the land, a trip out on our boat will provide you with a unique and uninterrupted view across the region. Don't forget to get the perfect snap for Instagram, your followers will love to hate you for it.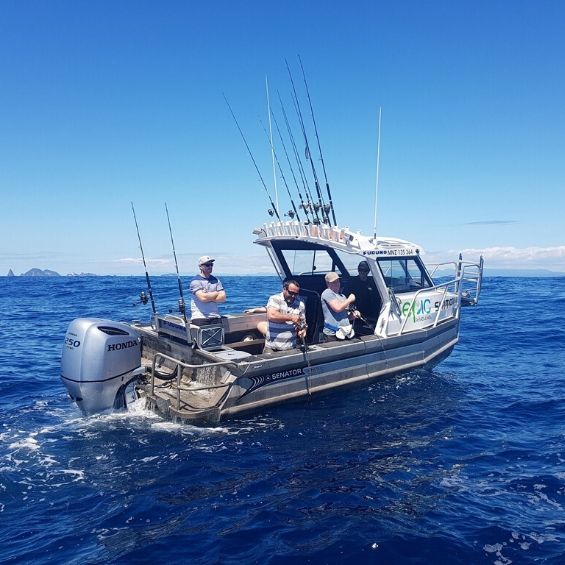 Making the most of Fishing Trip Tauranga
In the words of Lionel Richie, Tauranga is "easy like a Sunday morning". Situated a short flight or a cruisey drive away from Auckland, Wellington and Christchurch, Tauranga is equal parts convenient and secluded. The city sits right on the water's edge and is well-known for its blue skies, sparkling harbour and ultra-chilled lifestyle. The scenic location and year-round warm climate provides the ideal place to channel your inner nature-nerd and embrace the good ol' outdoors.
From watersports and hiking to adrenaline-packed fun and golfing greens, Tauranga will keep you busier than a $5 hooker. The city's main shopping and dining precinct is right on the waterfront, and boasts a wide range of bars, restaurants and boutiques. It's the type of place where locals come to share knock-off work drinks and people from all walks of life strut their stuff on the dancefloor. Tauranga's emerging arts scene is evident in the world-class street art, string of local galleries and range of live gigs on offer.
Whether you want to hike all day, boogie all night or just enjoy some quality time with the boys, Wicked Bucks can line up an epic celebration in Tauranga. As long as you BYO good vibes, we'll sort the rest.