Bucks Barefoot Bowls + BBQ Wanaka
Lawn bowls is a sport that has traditionally been associated with napisan-white, grey-haired and questionably cheerful retirees. Have you ever wondered what keeps your Grandparents so busy down at the local club? Wicked Bucks has cracked the code and it's not just the tasty range of snacks and treats on offer. Kick off your shoes, grab a cold beer and get ready to discover your new favourite sport – Barefoot Bowls. 
Just like your Aunt Karen after her 3rd divorce, lawn bowls has undergone a complete transformation. The sport was once reserved for your Grandpa John and his mates, but has now been overtaken by a bunch of shoeless, beer-sinking, 20-something-year-old larrikins. Forget everything you've ever thought, lawn bowls is the newest kid in town and it's cooler than you ever thought your grandparents could be. The perfectly manicured greens of Wanaka are the perfect place to test this new sport out too.
Heading down to the local club, strip off (just your shoes please, you can save the rest of the strip-tease for the end of the night) and get ready for some epic ball action with all the lads.
After splitting the group into teams of 3 to 4 players, you'll go head-to-head against each other on the greens. The aim of the game is to keep your balls together – well, to get them as close to the jack as possible. The closer you get to the jack, the higher your score. And no, we aren't referring to the unfortunately named member of your group. A lawn bowls jack is the black ball in the middle of the greens and it's surprisingly hard to reach. The group with the highest score at the end of all the rounds is dubbed the winning team.
Whether you're celebrating a win, attempting to drown your sorrows or just taking the piss out of the buck for his unco-skills, the clubhouse is the perfect place to retire for some post-game bevvies. It might not have the same vibe as your local footy or cricket club, but there is something so fun about drinking with old people.
Experience Overview
Lawn bowls is always a crowd pleaser
A great activity to get the ball rolling before a big night
Prove you've got the skills and technique
Kick off your shoes and you'll soon understand the hype!
Get a Quote
Call for Info
Reasons to do Barefoot Bowls in Wanaka
Lawn Bowls is an all-weather type of sport. The lakeside breezes of Wanaka keep the greens relatively cool during the summer and the mountain ranges are a beautiful backdrop during the colder months. Regardless of what time of year you're visiting Wanaka, lawn bowls is always a crowd pleaser. 
 How many other sports can you play with a beer in hand? While the traditional and older players still stick to pretty strict rules, the barefoot version of this game is much more relaxed. Once you kick off your shoes, it's an open invitation to crack into the bevvies. 
Lawn bowls is a sport traditionally reserved for retirees or much older people. This is your opportunity to get a head start on everyone else and start brushing up your skills before the stakes climb too high. You might discover you've got a hidden talent. 
Every guy likes to play with his balls a little differently. You might want to slowly roll or just smack it hard. Lawn Bowls is a great way to play it your way, and prove that you've got the skills and technique to score a win. 
Bucks parties are practically synonymous with dirty food, bucket loads of booze and all the cheeky treats in life. Barefoot bowls is a good way to keep your body moving, without breaking a sweat. After all that action, you'll earn plenty more beers later that night.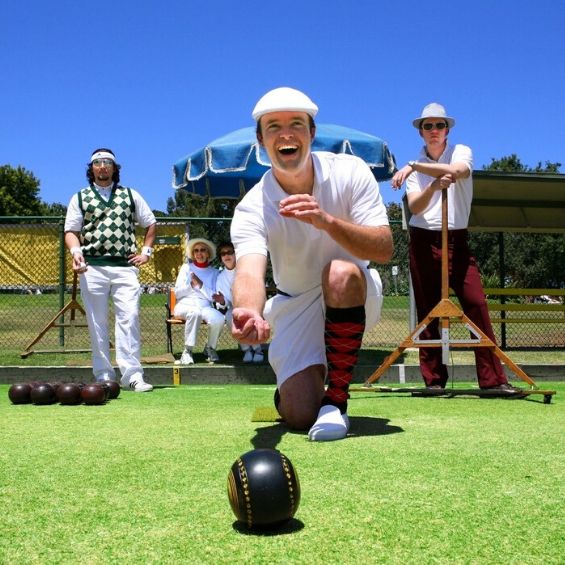 Making the most of Barefoot Bowls Wanaka
The small town of Wanaka, in the centre of New Zealand's South Island, could possibly be the most beautiful place on earth for your bucks party. The lakeside destination is nestled in the middle of the stunning Southern Alps and is only just beginning to attract the world's attention. This relatively low profile means the township has remained quite untouched and is a showcase of exceptional natural scenery. You can experience snow-covered mountains, fields of lupins, a glistening lake, gushing rivers and lush greenery, all within a hop, skip and a jump of the city CBD.
This outdoor wonderland is the perfect backdrop for all things adrenaline-fuelled, including everything from skydiving and paragliding to whitewater rafting and bungee jumping. For a city that offers more breweries per capita than anywhere else in the country, you can always count on Wanaka for an epic night out on the town.
We can't promise that your nightlife experience will be memorable though – it's more likely to be a hazy mix of random memories. But isn't that how all good nights go?! Since #ThatWanakaTree has started popping up all over Instagram, Wanaka is slowly starting to become more popular with tourists from across the globe. Don't wait until it's too late. Experience the township is all of its untouched glory today and what better excuse than your mate's bucks party!
Get in touch with Wicked Bucks and we'll line it all up for you. It's as easy as making a call, packing your bags and rounding up the lads.