Bucks Fishing Charter Wanaka
Wet, slippery and worth the wait…We know how to do it just the way you like it. We don't like it rough, but we're into more of a smooth, calm and long-lasting experience. Isn't that the way all good Fishing Trips go? Wanaka is an epic place to sit back, relax and hook a few keepers.
Fishing with the boys is a tradition as old as time. It's an activity that was around in the age of cavemen and unlike your high school fashion sense, this trend hasn't grown old yet. Round up the lads and get ready for some time out on the pristine waterways of the Wanaka region, where you can channel your primal instincts and prove that you're a real man. Your expert fishermen captain will pick you up from the dock in a privately chartered fishing boat and kit you out with all the necessary equipment, including fishing tackle, bait and lures.
Once you're all loaded on and decked out, it's time to head towards the horizon and hope you can bring something back. The glistening water, balmy conditions and insane clarity means you'll practically be able to see the fish swimming deep below the boat while you're standing on the deck. Paired with the expert guidance of your skipper and our state-of-the-art gear, you're almost guaranteed to catch a keeper. If you catch it, you cook it – and eat it, if you want too! We've got a gas cooker on-board for you to barbeque your fresh catch, and we'll even scale and clean it up for you too.
There is nothing quite like time out on the water with the boys. The views, the feed, the banter and the satisfaction of having a bigger one than the next guy makes this an all-round epic experience. 
Experience Overview
Quality time with the boys on the water
Catch, cook and eat your fish on board
State-of-the-art equipment including fishing tackle, bait and lures.
Amazing views
Get a Quote
Call for Info
Reasons to go on a Bucks Fishing Charter in Wanaka
When was the last time you could compare sizes with your mates, without looking like a total creep? We all want to have the biggest one in the group and a Wicked Bucks fishing trip is your chance to prove that you're the real winner of the pack. 
Wicked Bucks doesn't like to do things by halves, we are the reel deal. Our state-of-the-art equipment is maintained and looked after better than our girlfriends' indoor plants. The love and attention given to these rods and reels means that you'll be able to feel every bite and you won't miss out on any big catches. 
Cruising along the waterways of Wanaka is like being transported into another universe. The region is so beautiful that it seriously just doesn't feel real. In between casting your line, throwing banter and cracking open a cold one, you'll have the opportunity to soak in an uninterrupted and peaceful view across the region. It's so picturesque that it looks like a desktop screensaver but IRL. 
Quality time with the boys is becoming less and less frequent as more of you start to settle down and prepare to walk down the aisle. A Wicked Bucks fishing trip is the perfect excuse to lock in an epic arvo out on the water, with no distractions, no worries and no nagging partners or kids. 
Wanaka is a bucket list destination for keen fishermen from across the globe. Seasoned experts flock to the region all year round, relishing in the chance to stalk fish, perfect their casting abilities and bring home a fresh offering from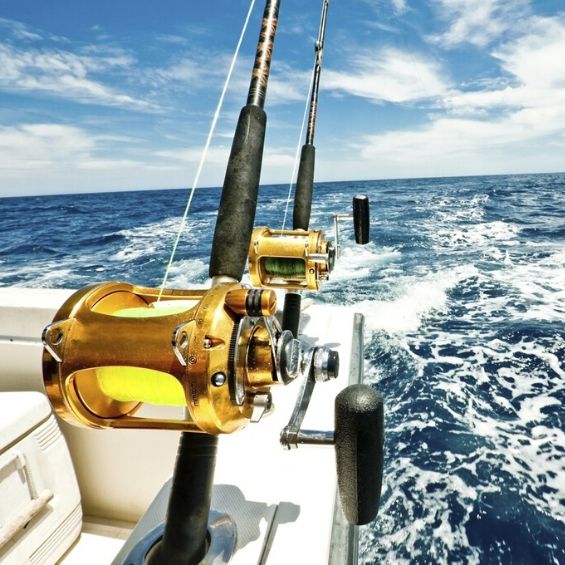 Making the most of a Fishing Trip in Wanaka
As a bunch of fun-seeking lads, the team at Wicked Bucks seriously cannot get enough of Lake Wanaka. This South Island destination is about a one hour drive north of Queenstown, and is well worth the roadtrip. The town has flown under the radar for decades but thanks to social media, the lakeside spot is slowly starting to attract the world's attention – and for good reason too. Most people know recognise the city for the glistening blue waters of Lake Wanaka or from the iconic and ultra-Instagrammable #ThatWanakaTree. These natural landmarks are a testament to the area's insane beauty. Imagine an alpine paradise of towering, snow capped peaks, mesmerising glaciers, rapidly flowing rivers and spectacular valleys. The entire region is easily scaled by foot, with many trails on the surrounding mountains and around the lake.
Another way to discover Wanaka's beauty, while also taking the piss out of your mate's low adrenaline-threshold is with an extreme outdoor activity. This landscape is the perfect backdrop for rocking climbing, skiing, snowboarding, paragliding, kayaking and even skydiving. Think of anything that produces an adrenaline kick and you'll find it in Wanaka. Celebrate these experiences with a cold bevvy (or 10) at the local pub, winery or brewery. Taking advantage of their abundant surroundings, most venues serve up an epic range of meals and have killer customer service to match.
We weren't kidding when we said we couldn't get enough of this incredible destination. From the moment you lay eyes on Wanaka, you'll understand the appeal too. In celebration of the soon-to-be-groom's wedding, get him loved up and ready to profess his feelings for Wanaka too.