Bucks Cruise Wanaka
It's been more than two decades since the iconic blockbuster The Castle soared onto our screens and infiltrated our daily life. Ever since the 1997 comedy introduced us to the blue-collar Kerrigans, we've been asking "How's the serenity?". In an ode to your childhood spent watching and reciting the movie, Wicked Bucks can give you an experience that has just SO MUCH SERENITY. We're pretty convinced that a Bucks Cruise through Wanaka could be New Zealand's Bonnie Doon equivalent.  
If you want to throw your buddy a bucks party that will "go straight to the pool room", you've come to the right place. With the help of Wicked Bucks and our Bucks Cruise through Wanaka, he'll be so chuffed with his thoughtful, unique and special celebration, that he'll be screaming your praises from the rooftops (or while standing on a table in a bar later that night). Wanaka is quite possibly one of the most picturesque destinations in New Zealand, which is a big call for a country internationally recognised for its postcard-perfect natural landscape.
While there are an abundance of opportunities to soak in the mesmerising scenery from the land, nothing compares to the uninterrupted and peaceful view from the water. After arriving at the dock, your group will be ushered onto your privately chartered vessel and whisked away towards the horizon. Each relaxing boat cruise is individually tailored to your group, including everything from the duration to the course. The state-of-the-art boats are fully licensed, equipped with refrigeration, a gas BBQ, sound systems and even fishing gear. You can opt to BYO all your favourite bevvies, or kick back and relax with a full catering service.
In between sailing the sea, stopping at private beaches and enjoying the view, we can also tee-up a private show for the boys. These ladies will give the landscape a run for its money with their beauty, and really know how to get the boat rocking. So what are you waiting for? Crack open a cold one, breathe in deeply and mutter the words you've been dying to ask all day, "How's the serenity? 
Experience Overview
Luxury with the lads
Have a couple of cold ones on the deck
Option to include topless or bikini girls
Stereo system on board
Catering and beverage package options
Experienced captain and cabin crew
Get a Quote
Call for Info
Reasons to do a Stag Party Cruise in Wanaka
Who says that only girls wanna have fun? We reckon your mate's upcoming wedding is an epic celebration to throw your adult responsibilities overboard and pretend you're still living the carefree single life. Hop on board our bucks cruise and leave your worries behind. It'll be a relaxed day of sun, fun and maybe some rum. 
As we get older, we're all starting to realise that the good rides are the ones that make the most of the experience, rather than just focusing on the final destination. This game-changing mindset is the foundation of our bucks cruise. We'll get you wet, get a little wild and give you a stack of long-lasting memories too. 
Boys and toys are a combination that never grows old. Although your mate is getting ready to walk down the aisle, he'll still appreciate a nice toy when he sees one. A Wicked Bucks bucks cruise is a great way to enjoy the perks of a big boys toy, without having to worry about the clean-up and maintenance. 
Wanaka is so beautiful that we literally pinch ourselves everytime we lay eyes on the iconic scenery. You'll gain a unique perspective and unparalleled view of the region when you take to the waters with Wicked Bucks. 
We're not going to lie, boat parties are a little OTT. This is probably the closest you'll ever get to feeling like you're a Hollywood A-Lister. Don't let an opportunity like that pass you by.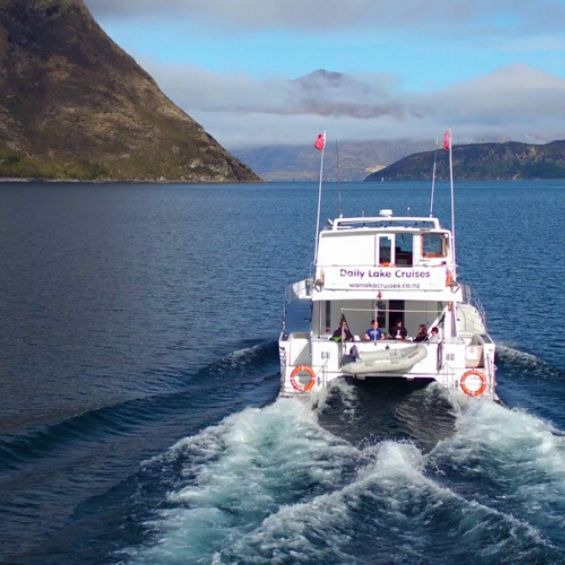 Making the most of Bucks Cruise in Wanaka
Wanaka is just like your Grandma's pantry, it's brimming with goodness and full of all the best things in life. Many travellers skip the small city on New Zealand's South Island, opting to spend their time in nearby Queenstown instead. These people obviously have no idea what they're missing out on but we're not complaining because the relatively lower tourism numbers gives the destination an overgrown-town feel.
The biggest attraction to the region is undoubtedly the landscape. You can see snow-capped mountains from just about anywhere in town, find fields of lupins in the spring and summer, as well as soak in the vibrant orange colours during autumn. True to the country's reputation, you can also find some ripper vineyards and epic drops of wine in the area. Cellar-door wine tasting is a great way to cap off your day after a morning spent hiking, joining in on the wealth of outdoor adventure sports or brunching your way through the CBD.
If all the action doesn't wear you out too much, Wanaka has a fairly pumping nightlife scene – especially considering its size! Bars, clubs, pubs and restaurants serve up great food, delicious drinks and pumping tunes every  week. If you're on the lookout for some charm, good vibes and great times, Wanaka is the solution for you. Wicked Bucks are the self-titled experts of bucks celebrations and we've got all the tips and tricks to ensure you get the most out of your time in Wanaka. All you need to do is say the word, and we'll make the magic happen.