Bucks Go Karting Wanaka
There is nothing like a good ride to put you in a good mood for the day. Whether it's smooth and controlled or wild and rough, there is just something about finishing that feels oh-so-good. Obviously we're talking about Go Karting with Wicked Bucks, and obviously there is no better place to hit the track than in Wanaka. Once you try it, you'll never settle for anything else. 
Do you want to get your heart pumping? To focus on yourself and finish first? Do you want a ride so good that you'll be yahooing and fist pumping all day long? You've come to the right place. Go Karting in Wanaka with Wicked Bucks is the perfect way to satisfy all your dreams and put your buddies to shame. Unlike plenty of your other rides, your satisfaction is our own and only focus.
Roll up to the track-side and we'll chuck you the keys to your custom-designed, professional go-kart. After a quick safety briefing and some sneaky tips from the experts,  you'll be ushered to the starting line for the green-signal to go. Once that light flashes, it's every man for himself. The banked corners and great sized track replicates realistic racing conditions while providing the thrill and excitement of motor racing for all abilities.
This is your opportunity to prove that all those hours spent playing x-box weren't for nothing. Channel everything that you've learnt from your Mario-Kart days and show your buddies that you've still got what it takes. We can't offer much more than bragging rights and celebratory post-race beers, but it doesn't really get much better than that.  
Experience Overview
Mario Kart has nothing on this
These are some powerful and fast go-karts!
Some healthy competition to see who comes out on top
Safety equipment to ensure the Buck gets back to the missus safely
Who will be the fastest on the track?
Get a Quote
Call for Info
Reasons to do Go Karting in Wanaka
Go-Karting is known by many as a childhood hobby or a great activity to keep an entire neighbourhood of kids entertained for hours at a time. Those people have obviously never been go-karting with Wicked Bucks. We don't do things in halves, so you can expect it to be as fast and furious as your Friday night action. 
New Zealand is a mecca for all things adrenaline-based and action-packed. Go-Karting on your bucks weekend in Wanaka is the ultimate way to get your heart pumping, without having to throw yourself out of a plan, off a bridge or put your body on the line too much. 
A healthy dose of competition is the key ingredient to bringing a group of guys together. Whether you're racing for bragging rights or you put your money where your mouth is, the entire experience is a great opportunity for pre-wedding bonding. 
Every guy can appreciate a nice car. These might not be luxury ferraris and slick sports cars but they still pack an absolute punch. It comes back to the age-old "boys and their toys" mentality, but we're really not complaining. 
Did you grow up dreaming of being an athlete? Maybe you wanted to run onto the AFL field with the Sydney Swans, hit a six on the Aussie cricket team or snag a try with the broncos. Chances are you probably gave up on that dream around the same time you lost your mullet. Bring back your childhood sporting dreams and try your hand at Go-Karting. You might discover a new talent.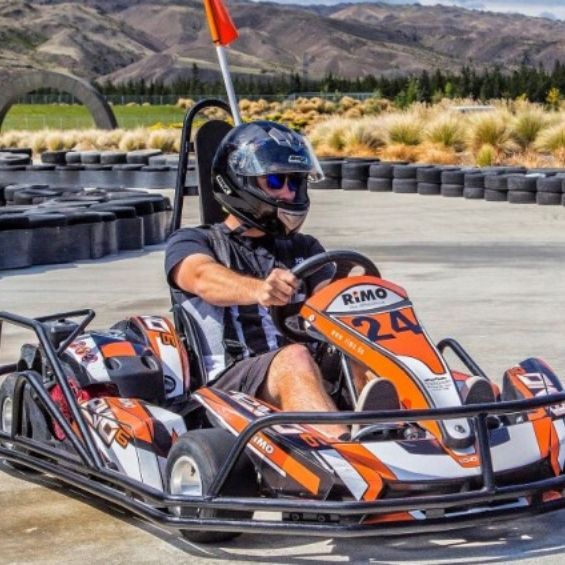 Making the most of Go-Karting in Wanaka
Mate, have we got the place for you! As small as New Zealand is, there are still a few places flying under the radar or that haven't quite reached the world's spotlight yet. Our favourite pick of all the untouched destinations is Wanaka. This lakeside town in the South Island's alp region puts your girlfriend's looks to shame. This stuff is the real-deal, natural type of beauty. We're talking about snow-capped mountains, clear blue skies, vibrant fields of flowers, lush greenery and an abundant stretch of national park.
Don't start nature nerding out too hard just yet though because the city CBD still maintains a cosmopolitan flair. There are more breweries per capita than any other destination in the country, making it an epic place to sink a cold one. These breweries are accompanied by several local wineries, world-class restaurants and a string of quirky cafes. You'll be indulging in more than your fair share of food and bevvies but don't stress too much – you can burn it all off on the dance floor later that night. Whip out your shopping trolley, dust off the sprinkler and test out your worm, the nightlife in
Wanaka is probably one of the most bustling scenes we've ever seen from a small town. Before we get too carried away, you might just want to see it all for yourself. Shower your mate in all-things-good by throwing him a sensational and unique send-off in Wanaka.